Product News: Test & Measuring Instruments
Surface Analyzer automates chemical characterization.
Press Release Summary: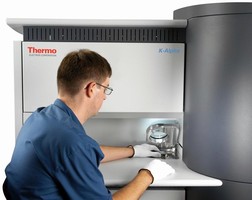 July 26, 2006 - Equipped with integral ion source, K-Alpha utilizes x-ray photoelectron spectroscopy to quantitatively determine surface chemical composition of top few nanometers of solid materials. Data processing algorithms enable full automation, from acquisition to data interpretation and reporting. Electron optics provide insight into complex surface chemistries in traditional materials as well as those used in biotech, nanotech, and pharmaceutical industries.
Thermo Fisher Scientific Inc. - Waltham, MA
Original Press Release
Thermo Launches Instrument for Rapid and Accurate Chemical Characterization of Surfaces
Press release date: July 20, 2006
CHICAGO, Illinois (July 20, 2006) - Thermo Electron Corporation announces the launch of its groundbreaking Materials Characterization instrument, K-Alpha. Utilizing the fast growing technique of X-ray Photoelectron Spectroscopy (XPS), K-Alpha can quantitatively determine the surface chemical composition of the top few nanometers of solid materials. Insulators, semiconductors and metals can all be analyzed in a user-friendly, reliable and automated fashion. This revolutionary new system is specifically targeted for high-throughput sample analysis and incorporates ingenious data processing algorithms offering full automation from acquisition to data interpretation and reporting. This novel instrument will be showcased on Thermo's booth #1516 at Microscopy and Microanalysis 2006, Festival Hall at Navy Pier, Chicago, Illinois, July 30-August 3. The innovative new electron optics deliver high sensitivity, permitting insight into the most complex surface chemistries in both traditional materials and emerging biotech, nanotech and pharmaceutical industries. K-Alpha's small spot capability, combined with its high sensitivity, enables rapid, chemical-state image acquisition. An integral ion source provides a high-resolution depth profiling capability, thus facilitating true 3-dimensional analysis. The compact footprint and built-in system calibration features deliver a level of robustness and a low cost of ownership now synonymous with analytical products from Thermo. For more information about Thermo's novel K-Alpha XPS instrument, please visit booth #1516 at Microscopy and Microanalysis 2006 in Chicago. Alternatively, please call +1 800-532-4752, e-mail analyze@thermo.com or visit
www.thermo.com/surfaceanalysis
About Surface Analysis Thermo Electron Corporation manufactures a range of instruments for surface, ultra-thin film and thin film analysis. We supply systems for X-ray Photoelectron Spectroscopy (XPS), Auger Electron Spectroscopy (AES) and multi-technique instruments. ESCALAB 250 is a high-performance, multi-technique XPS instrument, THETA PROBE is a small-spot XPS instrument capable of producing angle-resolved XPS data without tilting the sample, THETA 300 provides data from semiconductor wafers and MICROLAB 350 is a high-performance scanning Auger spectrometer. In addition to complete systems, we manufacture surface analysis components for techniques such as XPS, ARXPS, AES, SAM, UPS and ISS. For more information visit
www.thermo.com/surfaceanalysis
About Thermo Electron Corporation Thermo Electron Corporation is the world leader in analytical instruments. Our instrument solutions enable our customers to make the world a healthier, cleaner and safer place. Thermo's Life and Laboratory Sciences segment provides analytical instruments, scientific equipment, services and software solutions for life science, drug discovery, clinical, environmental and industrial laboratories. Thermo's Measurement and Control segment is dedicated to providing analytical instruments used in a variety of manufacturing processes and in-the-field applications, including those associated with safety and homeland security. For more information, visit
www.thermo.com