Product News: Mechanical Power Transmission
Stepper/Servo Brake is front-end mounted.
Press Release Summary: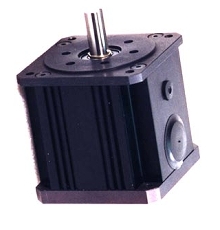 July 2, 2002 - FEB failsafe, power-off brake is specifically designed to be mounted on front end of stepper or servo motors as added safety feature for holding load in place. Brake holds load like parking brake or can be designed to stop load when power is shut off. Available in NEMA 23 and NEMA 34 sizes, FEB features maximum speed of 8,000 rpm. Attached to stepper or servo motor by bolting on or plugging in, unit comes in 24 and 90 Vdc voltages.
Valcor Engineering Corporation - Springfield, NJ
Original Press Release
Electroid's Economical "FEB" Series of Stepper/Servo Brakes are Front End Mounted
Press release date: June 24, 2002
SPRINGFIELD, NJ - ELECTROID, of Springfield, NJ is offering its economical FEB (Front End Brake) line of Stepper/Servo Motor brakes. ELECTROID has been a designer and manufacturer of electronragnetic clutches, brakes and related devices for rotary motion control for more than 50 years.
Available in two popular sizes, NEMA 23 and NEMA 34, the FEB is compact, powerful and cost-efficient. It is suitable for such applications as office and factory automation, material handling, robotics, CNC tools and systems, medical equipment, computer "chip" manufacturing equipment, clean room manufacturing equipment, electronic circuit board manufacturing, packaging machinery, etc.
The FEB is a failsafe*, or power-off brake, specifically designed to be mounted on the front end of stepper or servo motors as an added safety feature or for holding the load in place. The brake holds the load like a "parking brake" or can be designed to stop the load when the power is shut off. The FEB brake can be used as a safety device in order to prevent the machine from operating when power "fails" (electricity goes out).
Easily attached to a stepper or servo motor by simply "bolting it on" or "plugging it in," Electroid's FEB Series also features:
- Economical spring-set brake design
- Ball bearing supported output shaft
- Maximum speeds to 8,000 RPM
- Quick response
- Low backlash
- High torque output
- 24 and 90 VDC available as standard (other voltages available)
- Will fit standard NEMA 23 and 34 motor frames
In addition, custom designs built to the customer's special requirements are available upon request, including special mounting flanges, special shaft configurations, special termination of wires and special voltages.
For more information and free literature about Electroid's FEB Series of Front End Stepper/Servo Brakes, contact ELECTROID COMPANY, 45 Fadem Road, Springfield, NJ 07081, or call: 973/467-8100; FAX: 973-467-2606; or visit our website at
www.electroid.com
.
*Failsafe is a commonly used term for a power-off brake.