Product News: Machinery & Machining Tools
Stencil Frame Tensioning System streamlines SMT assembly.
Press Release Summary: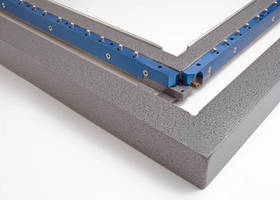 November 15, 2012 - Wizard Stencil Stretch Frame System features molded plastic container frame that holds stencil foil, with 64-80 contact points, for handling, mounting, and storage of SMT components. When parts are ready for printing, frame and stencil are mounted in lightweight aluminum, adjustable Wizard Master Stretch Frame and 50-110 psi compressed air is applied for tensioning stencil. Container frames are available in 3 sizes and 3 types of plastic composition for specific applications.
Original Press Release
New Wizard Frame Quick Tensioning System Enables Ultra-Quick Stencil Changes; Ideal for High-Mix SMT Assembly
Press release date: November 1, 2012
Medway, Massachusetts, USA - QTS Inc., an innovative developer of stencil frame Quick Tensioning Systems for automated stencil printers in electronics manufacturing, announces the introduction of the Wizard Stencil Stretch Frame System, designed to save time, costs, shipping, and waste over the old labor-intensive industry method of assembling custom cast aluminum or tubular frames and stencil foils.
Ideal for high product mix environments and contract manufacturers, the Wizard Frame System is a quick and efficient way of changing stencils and tensioning them in moments using simple, adaptable components and readily-available shop air (compressed). The system consists of two frame components plus the stencil foil.
The first frame is a patented molded plastic Container Frame that firmly holds the stencil foil for handling, mounting, and space-saving storage. 64 to 80 contact points securely hold the foil stencil in place. The Container Frame protects the technician from injuries during handling of the stencil's razor sharp edges. When ready to mount for printing, the Container Frame and stencil are mounted in the adjustable QTS Wizard Master Stretch Frame, a durable, lightweight aluminum frame assembly designed to accept the Plastic Container Frame and stencil and provide user-adjustable stencil tension in all directions. Compressed air at 50-110 PSI is applied (similar to filling a bike tire) by the user and the stencil instantly tensions. Stencil tension can be increased or decreased easily with the amount of air pressure applied.
The Wizard Stencil Stretch Frame System requires less storage space (since stencil foils can be stored in their compact plastic Container Frames) and eliminates the need for epoxy bonding of the stencil foil to a cast frame, waiting for extended epoxy cure times, etc. Shipping costs are lower since large cast or QTS Wizard 20 x 20 with 29 x 29 Adapter frame. This adapter frame converts the frame to a size that most stencil printers use, 1.5 x 29 x 29 inches, the industry standard. Welded frames don't need to be shipped with the stencil foils, and due to its design, greater clearance allows for a larger board image area. Container Frames are available in three sizes and three types of plastic composition for specific applications.
About QTS
QTS, Inc., or Quick Tensioning Systems, was founded in 1995 by printing machine systems pioneer and entrepreneur Gunter Erdmann. He had seen that it took quite a lot of time and resources to build a stencil and frame for electronic materials printing, and believed that he could engineer a way to do it faster, simpler, more inexpensively, and more efficiently. Today, in addition to the Wizard Stencil Stretch Frame System, QTS manufactures accessory products such as the Universal Stencil Adapter Frame, which converts tubular aluminum cast frames into an industry standard dimension to fit screen printing equipment, frame storage systems, and provides a range of precision CNC machining services. For more information, contact QTS at 4 Marc Road, Medway, Massachusetts, USA, Tel. 508-533-7819, or visit
www.QTSframe.com
.
Press Contact:
Tom Erdmann
Cell: 508-922-7814
E-mail: Tom@QTSframe.com