Product News: Architectural and Civil Engineering Products
Stairs and Landings retrofit existing installations.
Press Release Summary: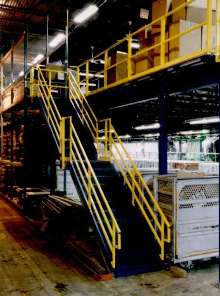 November 6, 2003 - Custom Stairs and Landings help customers meet updated building codes. Stairs come in welded or bolted configurations, with standard tread width of 36 in. Customer can specify open or closed risers, and treads in open-grate, serrated, pan, and flat or diamond plate material. Standard landing measures 4 x 4 ft and can be installed at any point as required. Double intermediate landings turn stair direction 180º at mid-point or top of stairs.
Original Press Release
W.A. Schmidt Offers Custom Stairs and Landings As Cost-Effective Retrofit Solution
Press release date: November 3, 2003
SOUDERTON, PA - W.A. Schmidt, Inc., a widely known mezzanines manufacturer, is offering industrial quality stairs and landings designed to retrofit to existing installations that may be in violation of current building codes (OSHA, BOCA, etc.). Updated building codes can be a frequent headache in older facilities. A common problem is increased personnel traffic on stairs and landings exceeding the limit for which a platform or mezzanine was originally designed. Since each facility and installation is different, W.A. Schmidt can custom design the stairs and landings to meet the customers' specific requirements and state building codes. "Retrofitting stairs and landings to an existing structure can be tricky, and many companies prefer to use an experienced manufacturer rather than a local contractor," remarked Kim Wanamaker, general manager at W.A. Schmidt. "Our product offers a cost-effective solution because it can be custom designed for use in just about any setting imaginable, including modular in-plant offices, warehouses, distribution centers, manufacturing plants, sports and entertainment facilities." Stairs can also be used in fire escape applications or as secondary exits. The stairs are available in welded or bolted configurations, with a standard stair tread width of 36 inches. Customers can specify stair treads in open-grate, serrated, pan, and flat or diamond plate material. They can also order the stairs with open or closed risers. Landings can be provided with the stair assemblies or independently. The standard landing measures 4 ft. x 4 ft. The landings can be installed at the top of the stair run, the mid-point or at any other point as required by the customer. Schmidt can also provide double intermediate landings that are used to turn stair direction 180º at the mid-point or top of the stairs. Integral handrails can be specified for stairs and landings to meet any applicable code or requirement. W.A. Schmidt designs and custom-engineers high quality wide-span and modular mezzanines plus a variety of other material handling products. Schmidt has completed more than 22,000 material handling equipment installations throughout North America and overseas. For more information visit W.A. Schmidt's website or contact Ray Lauer, Sales Manager, W.A. Schmidt, Inc., 38 Souderton Pike, Souderton, PA 18964 o Tel: 800-523-6719 or 215-721-8300 o Fax 215-721-5890 o E-Mail: rlauer@waschmidt.com o Web site:
www.waschmidt.com