Product News: Test & Measuring Instruments
Spectrometer performs on-site identification of metals.
Press Release Summary: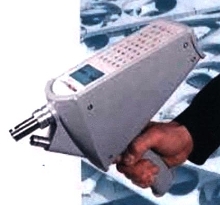 June 24, 2002 - SPECTROSORTccd hand-held spectrometer weighs less than 2.5 lbs and identifies metal chemistry in less than 4 seconds. Portable Charge Coupled Device (CCD) can identify and sort alloys, identify grade, and ensure compatibility of metal components. Semiconductor source creates precision arc discharge between sample and unit's electrode. Operating at power consumption of 50 W, it performs hundreds of analyses with one battery charge.
Spectro Analytical Instruments, Inc. - Mahwah, NJ
Original Press Release
Unique Hand-Held Analyzer Revolutionizes On-Site Identification of Metals
Press release date: June 6, 2002
Light, fast and accurate, this small but powerful analyzer is a useful tool for metals recyclers and plant engineering personnel. Fitchburg, MA -May 6, 2002 - SPECTRO Analytical Instruments, a leading global supplier of analytical instruments and systems for the metals industry, has announced what is said to be the world's smallest portable spectrometer. Weighing less than 2.5 lbs, the SPECTROSORT
ccd
hand-held analyzer can identify metal chemistry in less than 4 seconds. The instrument is ideal for use in scrap yards and metals facilities where it can be used for quick identification and sorting of valuable alloys. It can also be used in chemical, petrochemical, and related processing plants for grade identification and to ensure compatibility of metal components. Key to the instrument's outstanding performance is an advanced semiconductor source that creates a precision arc discharge between the sample and the unit's electrode. Operating at a power consumption of approximately 50 Watts, it allows hundreds of analyses with a single battery charge. Further, the unit's optics and detectors are smaller than any comparable system, and there is virtually no limitation to the number of elements that can be selected and analyzed. The SPECTROSORT
ccd
is also extremely cost-effective because it does not require costly radioactive source replacements, nor do users need special permits or operator training. Founded in 1979, SPECTRO Analytical Instruments is recognized worldwide as a technological leader in Arc/Spark Glow Discharge, X-ray Fluorescence, and Inductively Coupled Plasma (IPC and ICP-MS) Spectrometry. For more information about SPECTROSORT
ccd
hand-held analyzers, write to SPECTRO Analytical Instruments, 160 Authority Drive, Fitchburg, MA 01420; call (978) 342-3400, or 800-548-5809; or visit our web site at
www.spectro-ai.com
SPECTRO ANALYTICAL INSTRUMENTS, INC.; 160 AUTHORITY DRIVE; FITCHBURG, MA 01420; (978) 342-3400; FAX (978) 342-8695