Product News: Communication Systems & Equipment
SPDT RF Switch increases data throughput in BYOD enviroments.
Press Release Summary: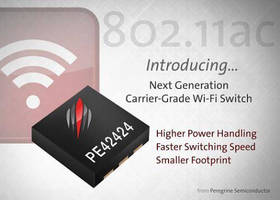 September 2, 2014 - Supplied in RoHS-compliant, 6-lead, 1.5 x 1.5 mm QFN package, UltraCMOS® PE42424 enables 802.11ac carrier and enterprise Wi-Fi® access points to deliver faster data rates in high-density environments. Power handling rating of of 8 W covers 30 dBm (CW) and 39 dBm (pulsed). Offering linearity of 61 dBm IIP3 and 125 dBm IIP2 over entire power-supply range, product features 145 ns switching time, 125 kHz switching rate, and isolation of 48 dB at 2.4 GHz and 35 dB at 6 GHz.
Original Press Release
Peregrine Upgrades Carrier-Grade Wi-Fi Switch with 60-Percent Power Handling Increase and 75-Percent Smaller Footprint
Press release date: August 26, 2014
The UltraCMOS® PE42424 RF Switch Enables 802.11ac Wi-Fi Access Points to Deliver Faster Data Rates in High-Density, BYOD Environments
SAN DIEGO – Peregrine Semiconductor Corp. (NASDAQ: PSMI), founder of RF SOI (silicon on insulator) and pioneer of advanced RF solutions, introduces the UltraCMOS® PE42424 high-isolation, SPDT switch optimized for 802.11ac carrier and enterprise Wi-Fi access points. Successor to last year's groundbreaking PE42423, the upgraded switch is 75 percent smaller and features a 60-percent increase in power handling and a 350-percent faster switching speed. The PE42424 is ideally suited for transmit/receive switching applications for outdoor Wi-Fi access points that require high power handling and rugged, high-temperature performance. Peregrine's RF switch enables these WLAN products to realize the promise of 802.11ac, which is offering high data throughput in increasingly dense, bring-your-own-device (BYOD) environments.
"Wi-Fi is by far the cheapest way to deliver mobile data, so, at a worldwide level, the deployment of Wi-Fi access points is accelerating," says Joe Madden, founder and principal analyst at Mobile Experts. "More than 1.8 million 802.11ac access points will be deployed next year, including both indoor and outdoor applications. In addition, most indoor small cells will also include Wi-Fi access-point hardware for seamless integration of Wi-Fi with mobile services. The wide bandwidth, high power and demanding linearity requirements of these access points drives a strong need for higher RF-component performance."
Carriers have been experiencing an exponential increase in mobile data traffic. To provide consistent quality of service, they are offloading this traffic to Wi-Fi networks, which are increasingly integrating 802.11ac into their small cells. Indoor units (IDUs) were the first Wi-Fi access points to adopt the 802.11ac standard, and Peregrine's inaugural Wi-Fi switch, the PE42423, was optimized for high performance within those devices. Today, outdoor unit (ODU) Wi-Fi access points are quickly adopting the 802.11ac standard, and their performance and environmental requirements are much more intensive. Peregrine developed the PE42424 to meet these specific 802.11ac-based ODU access point needs:
--  High power handling of 8W to accommodate the higher transmit power of the access-point radios
--  Fast switching speed of 145 ns to enable higher throughput and data rates in high-density, BYOD environments
--  High port-to-port isolation to reduce signal leakage between transmit and receive paths
--  Temperature support up to 105 degrees Celsius to withstand harsh environments and to reduce thermal constraints
--  Small 1.5x1.5 mm footprint to reduce board area and offer engineers more design options for other functions
"Peregrine is extending its Wi-Fi RF switch line to address the tough challenges faced by designers of next-generation 802.11ac access points," says Kinana Hussain, senior marketing manager. "Our UltraCMOS technology and patented design techniques preserve the unmatched isolation performance of PE42424's predecessor while increasing the power-handling capability, improving switching speeds and reducing the form factor."
Peregrine's PE42424 supports the latest carrier-grade, Wi-Fi device demands with additional features, including:
--  High linearity of 61 dBm IIP3 over the entire power-supply range; this capability enables system designs with lower supply rails and prevents linearity degradation through maximum power levels
--  High ESD rating of 2500V (on RF pins) that increases product reliability and eases manufacturing flow
--  Smaller switch footprint that eliminates the need for external components, such as DC blocking capacitors
--  Control logic support for 1.8V and 3.3V and wide power supply range from 2.3V to 5.5V that provides design flexibility
Features, Packaging, Pricing and Availability
Peregrine's PE42424 is a Single-Pole Double Throw (SPDT) RF switch featuring fast switching time (145 ns with a 125 kHz switching rate) and exceptional isolation (48 dB at 2.4 GHz and 35 dB at 6 GHz). The 50-ohm absorptive switch supports +1.8V standard logic control and provides stable RF performance over a power supply range between 2.3V and 5.5V. Samples, evaluation kits and volume-production parts are available now. Offered a RoHS compliant, 6-lead, 1.5x1.5 mm QFN package, the PE42424 is $0.49 each for 10K-quantity orders and $0.44 for 25K-quantity orders. View the press kit for images, video and datasheet.
Product Specification
Peregrine's PE42424 UltraCMOS® 50 ohm SPDT Wi-Fi RF Switch
100 MHz to 6 GHz
Features:
802.11 a/b/g/n/ac support
Wide power-supply range between 2.3V and 5.5V
+1.8V control logic compatible
105 degrees C operating temperature
Exceptional isolation
48 dB @ 2.4 GHz
35 dB @ 6 GHz
High linearity across supply range
IIP3 of 61 dBm
IIP2 of 125 dBm
High power handling
30 dBm CW
39 dBm Pulsed
Fast switching:
145 ns switching time
125 kHz switching rate
ESD performance
2500V HBM on RF pins to GND
1000V CDM on all pins
ABOUT PEREGRINE SEMICONDUCTOR
Peregrine Semiconductor (NASDAQ: PSMI), founder of RF SOI (silicon on insulator), is a leading fabless provider of high-performance, integrated RF solutions. Since 1988 Peregrine and its founding team have been perfecting UltraCMOS® technology - a patented, advanced form of SOI - to deliver the performance edge needed to solve the RF market's biggest challenges, such as linearity. With products that deliver best-in-class performance and monolithic integration, Peregrine is the trusted choice for market leaders in automotive, broadband, industrial, Internet of Things, military, mobile devices, smartphones, space, test-and-measurement equipment and wireless infrastructure. Peregrine holds more than 180 filed and pending patents and has shipped more than 2 billion UltraCMOS units. For more information, visit
http://www.psemi.com
.
The Peregrine Semiconductor name, logo, and UltraCMOS are registered trademarks of Peregrine Semiconductor Corporation in the U.S.A., and other countries.  All other trademarks mentioned herein are the property of their respective owners.