SPC Software is suited for cloud computing environment.
Press Release Summary: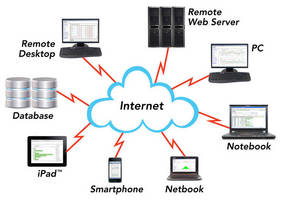 December 20, 2010 - Statistical Process Control (SPC) software, Synergy 3000(TM), lets suers gather, organize, analyze, and report on data sets required for real-time quality management over Internet from dispersed global locations. Suite of quality collaboration tools enable authorized users, despite their location, to input measurements or inspection counts, monitor process status, and troubleshoot processes. Users may also track/trace production samples and exchange QA data with various parties.
Original Press Release
Synergy 3000 SPC Software Well Suited for Cloud Computing
Press release date: December 14, 2010
Cincinnati, OH -- Zontec has announced the company's entry into the cloud computing market with its Synergy 3000(TM) Statistical Process Control (SPC) System. Cloud computing refers to technology that allows users to access data, software and services over the Internet and corporate networks, and is viewed as the newest wave of technology for efficiently moving data across organizations and systems.

Synergy 3000 is Zontec's most technically advanced member of its SPC software product lineup, designed to gather, organize, analyze and report on the huge data sets required for real-time quality management over the Internet from highly dispersed global locations. It serves as a comprehensive suite of quality collaboration tools that enable authorized users anywhere in the world to:


input measurements or inspection counts
monitor process status
troubleshoot processes by reacting to adverse events
track and trace production samples
exchange quality assurance data with customers and supply chain partners
and make sound product quality decisions within a secure computing environment

Data is organized in SQL databases by individual manufacturing facilities, product lines, suppliers or other ad hoc requirements for practical data management, optimal performance and strict security policy enforcement. To address security, performance, reliability, scalability and system availability issues, Zontec recommends hosting the Synergy 3000 cloud app in "private cloud" environments under the control of an organization's own Data Center.

"The Synergy 3000 architecture meshes well with the cloud computing concept," says Zontec President Warren Ha. "A highly scalable system, the software delivers mission-critical operation so important to processes running 24 x 7 with an unlimited number of concurrent users.

As more and more companies look for ways to improve quality while containing computing costs and better utilizing their Data Center resources, cloud computing will be the technology that positions them for operational excellence. We're fortunate to be the first to provide that capability now."