Product News: Computer Hardware & Peripherals
Solid State Storage Products come in 4 to 128 GB capacities.
Press Release Summary: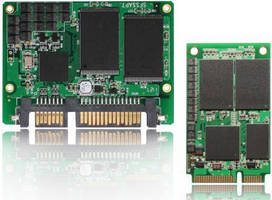 April 2, 2014 - Industrial solid state storage products, mSATA and SlimSATA, employ PowerProtectorPlus technologies and feature firmware and hardware designs that provide flexibility as well as extended time duration. This ensures safe storage of critical data into NAND Flash during multiple power outage scenarios. Real-time Full Disk Encryption (FDE) with Advanced Encryption Standard AES 128/256 bit is also standard. Markets include networking, industrial automation/equipment, transportation, and security.
Original Press Release
ATP Showcases New Industrial Grade mSATA and SlimSATA Solutions at EE Live! 2014
Press release date: April 1, 2014
Renews Its Commitment to Continue Strong Support of Both mSATA and SlimSATA with Added Features
Taipei, Taiwan — ATP, the leading manufacturer of embedded Flash, ruggedized SSD and DRAM modules , renewed its commitment to strongly support its customers with this latest generation of mSATA and SlimSATA with a line up of reliable, high performance solid state storage specifically suited for embedded, networking, server platforms, automation and transportation markets.  This product introduction is especially well-timed due to dwindling supplies in the market for both mSATA and SlimSATA products and solutions. The ATP mSATA and SlimSATA products are available in densities ranging from 4GB to 128GB, and will be showcased along with other ATP memory solutions at the EE Live! 2014, from April 1 to 3, at McEnery Convention Center, San Jose, booth #1632.
"ATP understands customers and market requirements for both mSATA and SlimSATA form factor solutions in its focus markets", said Alex Lee, PM Director of ATP, "Even though other suppliers are phasing out these solutions regardless of customers' long product life cycle needs, ATP reaffirms its position to continue its strong support on these products so customers can rest assure that they will be properly support for years to come".
Furthermore, ATP understands data integrity is one of the most critical factors for a NAND storage device to perform properly under harsh environments, such as extreme temperature or unstable voltage fluctuations, including sudden power outage. For this the new ATP mSATA and SlimSATA are designed with the PowerProtectorPlus technologies, which combat the technical limitations and performance issues offered by existing solutions using Supercaps or firmware only solutions. This new design technologies feature many unique firmware and hardware designs and provide greater flexibility with extended time duration, thus ensures safe storage of critical data into NAND Flash during multiple power outage scenarios. The new PowerProtectorPlus based mSATA and SlimSATA products have passed several thousands of power cycles during strict product qualification processes using the state of the art ATP Power Cycling Tests.
The new mSATA and SlimSATA also come with an exclusive real-time Full Disk Encryption (FDE) with Advanced Encryption Standard AES 128/256 bit, a rare feature in this class of products. The new mSATA and SilmSATA are ideal solutions for networking, industrial automation/equipment, transportation, military, surveillance and security.
About ATP
ATP is a leading manufacturer of high performance, high quality and durable NAND flash memory solutions as well as DRAM memory modules. With over twenty years of experience in the design, manufacturing and support of memory products, ATP continues to focus on mission critical applications such as industrial automation, telecom, medical and enterprise computing where high levels of technical support, performance consistency and wide operating temperature ranges are required. As a true manufacturer, ATP offers in house design, testing and product tuning. ATP also offers extensive supply chain support with controlled/fixed BOM's and long product life cycles. For more information on ATP products please visit
www.atpinc.com
, or contact us at
Info@atpinc.com
.