Product News: Machinery & Machining Tools
Solid Carbide Microdrill can serve diverse applications.
Press Release Summary: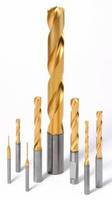 April 28, 2014 - Built on KC7325™ solid carbide grade, GOdrill™ is designed for 0.0394–0.5 in. dia holes and works with multiple materials. Marginless design reduces friction and heat, and multilayer TiAlN-based coating allows for high-heat hardness. Second TiN top layer serves as visual wear indicator. Available in solid (flood coolant) or through-coolant options, drills also feature straight cutting lip with protection chamfer that ensures even distribution of cutting forces.
Original Press Release
Kennametal Introduces GOdrill(TM)
Press release date: April 15, 2014
Versatile and cost-effective tools for micro-drilling
The comprehensive portfolio of holemaking solutions from Kennametal is an impressive collection of standard-option, application-specific platforms for any diameter, feed rate, or hole quality. The GOdrillTM, Kennametal´s first microdrill, is an outstanding example that works with multiple applications and multiple materials with excellent results.
The GOdrill is specially designed for holes in the range of 1 to 12.7 mm (0.0394 to 0.5 inches) diameter. Due to its unique design, the GOdrill expands the advantages of modular drills into the small-diameter range. High-end material grades, a wear indicator coating, and new, proprietary geometries allow shops to fully utilize the tool life capacity of the drill.
In addition, the GOdrill qualifies as a very cost-effective throw-away type tool in the given diameter range. A multi-purpose solid-carbide microdrill, the GOdrill is the perfect tool for customers with a need for small to medium-sized holes at a reasonable price.
Its unique design makes the GOdrill a very versatile tool to be used in a broad variety of materials and workpieces. The proprietary marginless design reduces friction and heat, while its straight cutting lip with protection chamfer allows no starting point for wear and an even distribution of cutting forces. This results in longer tool life in all materials due to less chipping on the cutting edge.
Built on Kennametal´s proprietary KC7325TM grade of solid carbide, the GOdrill also features a multilayer TiAlN-based coating for high hot hardness. This not only enables high cutting speeds, it also provides excellent holemaking, even in minimum-quantity lubrication (MQL) situations. A second TiN top layer serves as a visual wear indicator, useful for achieving full tool life in microdrills.
GOdrills are available in solid (flood coolant) or through-coolant options and are excellent first choices in a wide range of materials and applications, including fuel systems and precise medical components. For drilling small diameters with high quality, GOdrills are an excellent and cost-effective tool for a growing range of microdrilling tasks.
For more information, visit
www.kennametal.com
New GOdrillTM from Kennametal.
Kennametal GOdrillTM microdrills have through-coolant and flood coolant options.
Kennametal
Celebrating more than 75 years as an industrial technology leader, Kennametal Inc. delivers productivity to customers seeking peak performance in demanding environments. The company provides innovative wear-resistant products, application engineering and services backed by advanced material science, serving customers in 60 countries across diverse sectors of aerospace, earthworks, energy, industrial production, transportation and infrastructure. With approximately 14,000 employees and nearly $3 billion in sales, the company realizes half of its revenue from outside North America, and 40% globally from innovations introduced in the past five years. Recognized among the "World's Most Ethical Companies" (Ethisphere); "Outstanding Corporate Innovator" (Product Development Management Association); and "America's Safest Companies" (EHS Today) with a focus on 100% safety, Kennametal and its foundation invest in technical education, industrial technologies and material science to deliver the promise of progress and economic prosperity to people everywhere. For more information, visit the company's website at
Kennametal Shared Services GmbH
Wehlauer Strasse 73
D-90766 Fuerth
Carsten GROMOLL
Phone: +49 911 9735 557
Fax: +49 911 9735 551
carsten.gromoll@kennametal.com