Product News: Machinery & Machining Tools
Solid Carbide Chamfering Drills handle wide range of materials.
Press Release Summary: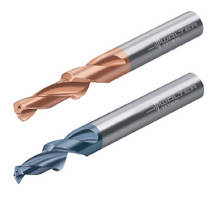 April 18, 2013 - Available in Type 99 version with internal coolant and Type 79 version without coolant, Titex X•treme Step 90 features 4-margin design that is suited for entering in uneven surfaces up to 5°, uneven exits up to 45°, and cross holes. Intended for extra deep drilling, X•treme Pilot Step 90 for XD has 2-flute design, 2xDc pilot length for optimal alignment, diameter tolerance of p7, and TFT coating. Both feature countersink of 90°, which limits need for deburring and optimizes chamfering.
Original Press Release
Walter Announces Two New Drills
Press release date: April 17, 2013
Walter Titex X•treme Step 90 and X•treme Pilot Step 90

New solid carbide chamfering drills for a broad range of materials.

Waukesha, WI –Walter has introduced its new Walter Titex solid carbide chamfering drills, the X•treme Step 90 and the X•treme Pilot Step 90 for XD (extra deep) drilling applications. These versatile new drills are engineered to boost productivity, process reliability and workpiece quality.

The Walter Titex X•treme Step 90 is available in two versions, the Type 99 with internal coolant, and the Type 79 without. Both feature a 4-margin design for superior hole quality. The design is well suited to entering in uneven surfaces up to 5 degrees, uneven exits up to 45 degrees, and cross holes. In addition, X•treme Step 90's countersink of 90 degrees limits the need for deburring and facilitates superior chamfering, and correction of the countersink promotes the highest degree of process reliability. The drill has a point geometry (140 degree point angle) that makes it suitable for universal use. Diameter tolerance is m7, and shank diameter tolerance is h6 per DIN 6535 HE and HA. The drill's XPL coating enables universal use and provides for secure chip evacuation plus superior wear resistance and tool life.

The Walter Titex X•treme Pilot Step 90 solid carbide chamfering drill, especially for supporting extra deep drilling, features a 2-flute design, short length for maximum stability, 2xDc pilot length to provide the best alignment for the XD drill, diameter tolerance of p7, and a TFT coating for maximum tool life and minimum adhesion. It has a 90 degree countersink to improve chamfering, reduce the need for deburring, and to support the entering of XD drills. Correction of the countersink gives this new drill exceptional process reliability. Shank diameter tolerance is h6 according to DIN 6535 HA. It has a 150 degree point angle and point geometry designed for the best positioning accuracy. Taken together, this array of features provides for positioning accuracy, repeatability, and optimum alignment and guidance for the XD drill, leading to increased productivity, maximum stability and heightened workpiece quality.

Both the Walter Titex X•treme Step 90 and the X•treme Pilot Step 90 for XD solid carbide chamfering drills have a wide application range and are engineered for use on steel, stainless steel, cast iron, aluminum, heat resistant alloys, and hardened steels, as well as composites and plastics.

Walter offers an extensive line up of cutting tools for milling, drilling, turning, boring and specialized tooling for unique applications through its competence brands Walter Valenite, Walter Titex and Walter Prototyp. As well as multi-level service programs through its Walter Multiply brand. Headquartered in Waukesha, Wisconsin the company has a strong network of distributors and field engineers across North America. The Walter name is synonymous with productivity, thanks to more than 80 years of developing cutting tools and inserts that set new standards in quality, innovation and production.