Product News: Machinery & Machining Tools
Soldering Stations feature ESD-safe design.
Press Release Summary: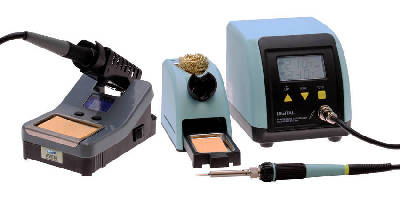 October 13, 2015 - Equipped with blue-backlit LCD, 3-piece Lead-Free Soldering Station includes slim 60 Watt iron that goes from room temperature to 350°C in about 30 seconds. Ceramic heat exchange system has range of 320–900°F, regulated by microprocessor. Portable Soldering Station, weighing less than 2 lb, features blue-backlit LCD, 30 Watt iron, and temperature range of 320–1,020°F. Both self-contained stations incorporate iron holder, tip cleaning and supply storage.
Original Press Release
ESD-Safe Soldering Stations From Aven Have LCD Displays
Press release date: October 12, 2015
ANN ARBOR, MI – Two new LCD display soldering stations provide wide temperature ranges and ESD-safe reliability for use with SMT components, audio equipment and radio-controlled devices. 
Each workbench station from Aven, Inc. offers self-contained convenience by incorporating an iron holder, tip cleaning and supply storage in compact units.  
"These additions to our soldering supplies are designed for electronics engineers, repair technicians and hobbyists," says Mike Shahpurwala, president of the precision tool and optical instrument supplier. "The larger station is suitable for design, prototyping, limited production, PC board repair and other maintenance."
Here's a summary of the products' features and benefits:
• Lead-free soldering station: This three-piece digital set has a blue-backlit LCD display for easy temperature reading. The ceramic heat exchange system has a range of 160-480 degrees Celsius (320-900 Fahrenheit), regulated by a microprocessor to assure precision. The slim iron, which has a rubber grip and comes with a replaceable pointed tip, goes from room temperature to 350 Celsius in about 30 seconds. The 60-watt tool, with a four-foot cord, nests safely in a secure holder between uses. That detached storage stand has a coiled brass cleaner and recessed area for removing tip debris, as well as a pull-out sponge tray.
• Portable soldering station: This compact set, weighing less than two pounds, uses minimal bench space and can be rotated easily among work stations. The 30-watt iron has a rubber grip, pencil-style tip and four-foot power cord. It's stored atop the ceramic heater in a holder with safety guard. That unit also has a LCD display with blue backlight, plus a mini-drawer for extra tips and parts. The temperature range is 160-550 degrees Celsius (320-1,020 Fahrenheit).           
Five styles of replacement tips, including chisel, conical and knife choices, are available at nominal cost.
"ESD safety is a critical advantage of Aven's new models," notes Shahpurwala. "Static discharge while soldering can cause device failure or undermine the reliable lifespan of delicate electronics."
The Michigan-based company also offers lead-free or regular solder in rolls and tubes, a 550-watt soldering pot, tool kits, an adjustable circuit board holder, and desoldering wicks and pumps.       
For more information, contact Aven at (734) 973-0099 or
sales@aveninc.com
. A digital catalog is here.
Visit Aven at Booth 621 of the Automation Technology Expo in Houston on Oct. 13-14 or at Booth 1608 of the Quality Show in Rosemont, Ill., from Oct. 27-29.
Aven, Inc. manufactures and distributes high-performance precision tools and optical systems for industrial, scientific, medical and education applications. More than 800 products include stereo zoom microscopes, video inspection systems, digital portable scopes, illuminated pocket scopes, magnifying lamps, LED task lights, test and measurement instruments, CMOS and CCD cameras, other microscope accessories and premium hand tools, including stainless steel models.
An electronics innovator since 1983, Aven is located in a high-tech corridor of Southeast Michigan.
CONTACT:
Mike Shahpurwala
mike@aventools.com
734.973.0099