Software Development Tool offers system level simulation.
Press Release Summary: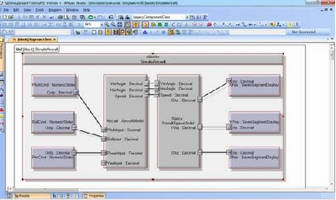 June 8, 2012 - Using Artisan Studio SySim add-on, Artisan Studio 7.4 enables engineers to find problems early in design cycle. Artisan Studio SySim augments OMG SysML models, making them executable, testable, and verifiable. It allows systems engineers to visualize multi-scenario, complex system behavior and combines different execution engines. With Artisan Studio 7.4, users can now reconcile sibling sandboxes, refactor state machines, and difference same package used in different models.
Original Press Release
Launch of Artisan Studio 7.4 Delivers All New Systems Simulation, Plus Additional Modeling Features and Benefits
Press release date: May 24, 2012
This release introduces Artisan Studio SySim for system level simulation; plus improvements to sandboxing, differencing, state machines and IDL3/IDL3+ generation/reversing SAN DIEGO and CHELTENHAM, England,-- Atego(TM), the world leading software tools and professional services supplier for complex, mission- and safety-critical systems and software engineering, has launched Artisan Studio 7.4[http://www.atego.com/campaigns/artisan-studio-7-4], an important new version of its flagship model-driven development tool. Emphasizing system level simulation, this release includes the optional add-on, Artisan Studio SySim. This brand new tool enables system engineers to find problems earlier in the design cycle when they are much cheaper to fix. Artisan Studio SySim augments OMG SysML models, making them executable, testable and verifiable. It allows systems engineers to visualize multi-scenario, complex system behavior and combines different execution engines. This first release of Artisan Studio SySim simulates and co-simulates behavior designs in Artisan Studio SysML, Atego Structured Action Language, VB.NET and Simulink. "We are very pleased to announce the launch Artisan Studio 7.4, with its new and innovative approach to systems simulation," said Hedley Apperly, Atego's Vice-President of Product & Marketing. "Artisan Studio SySim's simulation of SysML models dramatically improves verification, leading to real reductions in overall project cost." Artisan Studio 7.4 also incorporates a range of new capabilities including extensions to its IDL3/IDL3+ modeling & generation, model explorer auto-bookmarks, plus user interface enhancements for model versioning and the automation API. With Artisan Studio 7.4 you can now also reconcile sibling sandboxes, refactor state machines and difference the same package used in different models. Finally, the Artisan Studio Publisher now provides HTML package browser export. "Providing systems simulation and enhanced functionality, Artisan Studio 7.4 represents yet another Atego innovation in model-driven complex, mission- and safety-critical systems and software development," said Pierre Cesarini, CEO of Atego. "Continuing to build on our Work-as-One strategy, its simulation significantly improves communication between systems engineering and all stakeholders, to verify system designs." About Atego
Atego is a world leading software tools and professional services company, focused on helping organizations engineer complex, mission- and safety-critical systems and software. With today's systems and software engineering projects continually growing in complexity, Atego's collaborative development tools, robust runtime environments, certification know-how and supporting services enable abstraction, optimization and automation - dramatically increasing quality, security and productivity. http://www.Atego.com All trademarks are recognized and are the property of their respective companies. Media contacts:
Beverley McFarlane
Tel: +44-1242-229-335
Email: Beverley.McFarlane@Atego.com