Product News: Electrical Equipment & Systems
SMT PAR® TVSs serve automotive and telecom applications.
Press Release Summary: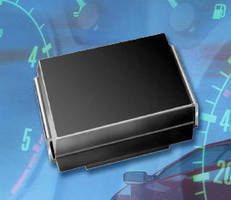 December 11, 2012 - Supplied in DO-214AB package, 5KASMC series has surge capability to 5 kW at 10/1000 μsec that increases design flexibility and compatibility. Operating junction temperature range of -65 to +185°C and low-stress, symmetric lead frame designs lend to reliability for automotive applications. These AEC-Q101-qualified products protect sensitive electronic equipment against voltage transients induced by system inductive load switching and lightning. Stand-off voltages range from 10–43 V.
Original Press Release
Vishay Intertechnology's New Series of Surface-Mount PAR® TVS Combines 5 kW High Surge Capability with +185°C Operating Junction Temperature in DO-214AB Package
Press release date: December 10, 2012
MALVERN, Pa. – Vishay Intertechnology, Inc. (NYSE: VSH) today introduced a new series of surface-mount PAR® transient voltage suppressors (TVS) in the SMC DO-214AB package. For automotive and telecom applications, 5KASMC series devices feature high surge capability to 5 kW at 10/1000 μs and an operating junction temperature range from - 65 °C to + 185 °C.

The TVS devices released today offer 233 % higher surge capability than conventional 1.5 kW devices in SMC packages, increasing design flexibility and compatibility. In addition, the TVS' high operating junction temperatures and new low-stress, symmetric lead frame designs provide the high reliability required for automotive applications.

Designed to protect sensitive electronic equipment against voltage transients induced by system inductive load switching and lightning, the AEC-Q101-qualified devices are suitable for secondary automotive load dump protection and telecom infrastructure DC power bus lightning surge protection.

The 5KASMC series consists of 16 TVS devices with stand-off voltages from 10 V to 43 V. The devices offer a peak pulse power current from 294.1 A to 72 A, maximum clamping voltage from 17 V to 69.4 V, very fast response times, and low incremental surge resistance.

The 5KASMC series meets the Moisture Sensitivity Level MSL1 and can be lead (Pb)-free-soldered with a maximum peak temperature of 260 °C (per JEDEC standard J-STD-020). The devices are compliant with ISO-16750-2 Pulse 5b (Ri = 2.5 Ω to 4 Ω) and JASO-A1 (Ri = 5.0 Ω). TVS devices with a stand-off voltage of 36 V and below are also compliant with IEC61000-4-5 6 kV (Zs = 12 Ω) and 4 kV (Zs = 2 Ω) lightning surge tests.

The RoHS-compliant TVS devices are halogen-free according to the IEC 61249-2-21 definition and comply with WEEE 2011/65/EU.

Samples and production quantities of the new 5KASMC series are available now, with lead times of eight weeks for large orders. Pricing for U.S. delivery is $2.55 per piece. Follow PAR TVS devices at http://twitter.com/vishayindust.

Vishay Intertechnology, Inc., a Fortune 1,000 Company listed on the NYSE (VSH), is one of the world's largest manufacturers of discrete semiconductors (diodes, MOSFETs, and infrared optoelectronics) and passive electronic components (resistors, inductors, and capacitors). These components are used in virtually all types of electronic devices and equipment, in the industrial, computing, automotive, consumer, telecommunications, military, aerospace, power supplies, and medical markets. Vishay's product innovations, successful acquisition strategy, and "one-stop shop" service have made it a global industry leader. Vishay can be found on the Internet at www.vishay.com.

Agency Contact:
Bob Decker
Wall Street Communications
Telephone: 1 415 409 0233
Fax: 1 650 618 1512
Email: bob.decker@wallstcom.com

Reader Contact:
Vishay Intertechnology, Inc.
Web: www.vishay.com

Link to datasheet:
http://www.vishay.com/doc?89432 (5KASMC10A through 5KASMC43A)

Link to product photo:
http://www.flickr.com/photos/vishay/8232420683