Product News: Controls & Controllers
Small Volume Prover Controller aids real-time LCD monitoring.
Press Release Summary: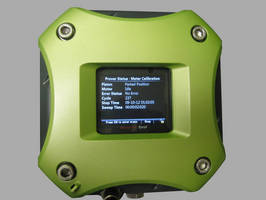 November 19, 2012 - Small Volume Prover Controller allows users to visually monitor and control operation of prover. It features 6-line LCD that shows data including piston position, motor status, error status, cycle value, proving run date, and sweep time. Handheld Local Access Device, for programming controller, provides diagnostics and active and historical alarm log. Running on 20-28 Vdc power supply, product also offers sweep time display in seconds, on-screen cycle counter, and adjustable delay.
Honeywell International Inc. - Freehold, NJ
Original Press Release
Honeywell Enraf to Boost Performance of Small Volume Provers
Press release date: November 5, 2012
Enhanced Product Portfolio for Accuracy in Custody Transfer Operations
DELFT, THE NETHERLANDS – Honeywell (NYSE:HON) today announced the launch of a major upgrade to boost the performance of all existing and new small volume provers. For the first time, the Honeywell Enraf Small Volume Prover (SVP) Controller allows users to visually monitor and control the operation of the prover in real time on a clear LCD display.
Small volume provers are essential technology in the oil and gas industry to verify the accuracy of flow meters that gauge the volume of liquids being transferred, for example when loading or unloading ships. The total global meter verification market is estimated at $180 to 200 million. 
"This brings a new level of precision to proving control," said Richard Thompson, general manager of Honeywell Enraf. "It will mean Honeywell Enraf's small volume prover range remains the market leader, and will also offer radically improved performance on 3rd party provers."
"As the global oil and gas market has grown and diversified, so have the demands for assurances of the accuracy of meters used in custody transfer operations. This new controller draws on our extensive experience in this space to give operators the greatest possible precision while also increasing their efficiency," said Thompson.
The controller's six-line LCD displays all critical prover data, including piston position, motor status, error status, cycle value, proving run date and sweep time. A handheld Local Access Device (LAD), meanwhile, allows users to fully program the controller and provides multiple diagnostics, an active and historical alarm log, secure alarm acknowledgement and clearing, and with an option kit, full management of the water draw sequence.
The combination of new features promises significant improvements across the prover's lifecycle:
• A sweep time display in seconds with repeatability in milliseconds provides precise visual reading of the time taken by the piston to travel between upstream and downstream optical switches – vital for pulse generation calculations and the repeatability of proving runs.
• An on-screen cycle counter and customizable preventative maintenance service alarm improves reliability.
• An adjustable delay to keep the motor running after the motor stop switch is activated, allowing the drive system to position the puller bar closer to the piston catch for the next proving cycle, cuts cycle times.
• An intrinsically safe combined with flameproof design, with ATEX and CSA approval for use in hazardous areas. 
• Low power consumption, with the 20-28V DC power supply, which reduces running costs.
The new controller is available immediately for updating installed and legacy equipment from Calibron and other manufacturer's provers. It will be fitted to all new Honeywell Enraf prover products beginning in 2013.
For further details about Honeywell Enraf's solutions for terminal operations, visit
www.honeywellenraf.com
.
Honeywell International (
www.honeywell.com
) is a Fortune 100 diversified technology and manufacturing leader, serving customers worldwide with aerospace products and services; control technologies for buildings, homes and industry; automotive products; turbochargers; and specialty materials. Based in Morris Township, N.J., Honeywell's shares are traded on the New York, London, and Chicago Stock Exchanges. For more news and information on Honeywell, please visit
www.honeywellnow.com
. Honeywell Process Solutions is part of Honeywell's Automation and Control Solutions group, a global leader in providing product and service solutions that improve efficiency and profitability, support regulatory compliance, and maintain safe, comfortable environments in homes, buildings and industry. For more information about Process Solutions, access
www.honeywellprocess.com
.
Contact:
Sarah Wise
(602) 293-1265
sarah.wise@honeywell.com