Product News: Mounting & Attaching Products
Six-Axis Parallel Kinematic Positioning System supports 450 kg.
Press Release Summary: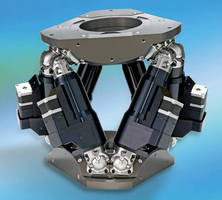 December 13, 2012 - Able to accommodate centered load of 450 kg or load of 200 kg in any orientation, 550 mm dia x 395 mm high HXP1000 Hexapod suits motion positioning tasks that require up to 6 degrees of motion and flexible coordinate systems or pivot points. Quality of actuators and backlash-free cardan joints enhance repeatability and positioning performance, while 2 software-settable pivot points promote flexibility. System has no moving cables and no accumulation of motion errors.
Original Press Release
Newport Introduces HXP1000 Hexapod, a High Load, 6-Axis-Parallel Kinematic Positioning System
Press release date: December 11, 2012
Irvine, CA – Newport Corporation, a worldwide leader in laser and photonic solutions that Make, Manage and Measure Light®, introduces the HXP1000 Hexapod, a high load, 6-axis-parallel kinematic positioning system that can accommodate a centered load of 450 kg or a load of 200 kg in any orientation. The large hexapod is extraordinarily compact for its load capacity, measuring 550 mm diameter and 395 mm at its nominal height. Key features include long travel ranges, fast speeds, high stiffness and stability, and two software settable pivot points.

The simple to use HXP1000 Hexapod is ideal for motion positioning tasks that require up to six degrees of motion and flexible coordinate systems or pivot points.  Applications include optics and satellite assembly and testing, wafer alignment and bonding, X-Ray diffraction, biotechnology, surgery, materials analysis, astronomy, micromachining/micro-manipulation, sensor calibration, and simulation.

The high quality actuators and the backlash-free cardan joints enhance both the repeatability and the positioning performance of the new hexapod.   The HXP1000 system has no moving cables and no accumulation of motion errors, making it highly reliable in advanced positioning applications.  Customized configurations are also available.

For more information about Newport's 450-kg load HXP1000 Hexapod please visit the product page here:  www.newport.com/HXP1000, or view a video presentation here:  www.newport.com/HXP-video.

About Newport Corporation
Newport Corporation is a leading global supplier of advanced-technology products and systems to customers in the scientific research, microelectronics manufacturing, aerospace and defense/security, life and health sciences and precision industrial manufacturing markets.  Newport's innovative solutions leverage its expertise in high-power semiconductor, solid-state and ultrafast lasers, photonics instrumentation, sub-micron positioning systems, vibration isolation, optical subsystems and precision automation to enhance the capabilities and productivity of its customers' manufacturing, engineering and research applications.  Newport is part of the Standard & Poor's SmallCap 600 Index and the Russell 2000 Index.

Company Contacts:
Pete Neely
Director, Marketing Communications
Tel: 800-222-6440 / +1 949-863-3144
E-mail: pete.neely@newport.com

Beda Espinoza
Sr. Manager, Motion Products
Tel: 949-253-1247
E-mail: beda.espinoza@newport.com

Marlene D. Moore
Advertising • Marketing • Public Relations – for Advanced Technologies
818-708-1704 / Fax: 818-344-7179
Cell: 818-512-6090
marlene@smithmillermoore.com