Product News: Health, Medical, & Dental Supplies and Equipment
Single-Use Safety Scalpels feature textured feel handle.
Press Release Summary: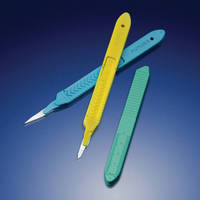 April 9, 2010 - Designed for one-handed activation and automatic retraction, Futura® single-use safety scalpels are available in blade sizes of 10, 11, and 15 and are color-coded in green, blue and yellow. Supplied as non-sterile components, scalpels are suited for cath lab or in kits, trays, and packs.
Original Press Release
New Futura® Single-Use Safety Scalpels
Press release date: March 23, 2010
Edgewood, NY - Qosina is now offering Futura® Single-Use Safety Scalpels, (#31210, 31211 and 31215) which have been designed for easy one-handed activation and with automatic retraction. Blade sizes (#10, #11, and #15) are color-coded in green, blue and yellow for easy identification and the handle has a textured feel for a more comfortable grip. These scalpels are sold as non-sterile components and are ideal for the cath lab or in kits, trays and packs.
Qosina offers many other kit components for you to complete your project, including gauze, towels, drapes, masks, and single-use stainless steel kit components. Request your complimentary samples of the scalpels and kit components today.
Part Number  Blade Size	 Color 31210 	      10	     Green 31211        11 	 Blue 31215        15 	     Yellow
Call our Customer Service Specialists to request a sample, obtain our latest catalog or place an order via phone +1 (631) 242-3000, fax +1 (631) 242-3230 or e mail info@qosina.com. Visit us at
www.qosina.com
to see our latest products. Custom sourcing services are available through our knowledgeable specialists using Qosina's extensive resources.
Qosina is a worldwide supplier of thousands of stock OEM disposable components to the medical and pharmaceutical industries including connectors, luers, caps, clamps, adapters, stopcocks, valves, swabs and spikes. Qosina operates an ISO 9001:2000 and ISO 14001:2004 registered facility.
Contact: QOSINA 150-Q Executive Drive Edgewood, NY 11717 Phone: +1 (631) 242-3000 Fax: +1 (631) 242-3230 E-mail: marketing@qosina.com