Product News: Computer Hardware & Peripherals
Single-Color Pad Printer prints images up to 140 mm in dia.
Press Release Summary: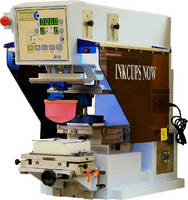 August 25, 2011 - Featuring 150 mm VersaCup ink cup assembly and compression capability of 779 lb, Model B150 handles large, hard print pads, enabling images on label-free garments, drinkware, injection molded housings, bezels, and other products up to 5.5 in. in height. Users can program variable pad delays, print speed, and double print function. Used on benchtop or mounted onto base cabinet, Model B150 features tool-less setup and illuminated plate system for visibility in work area.
Original Press Release
B150 - Benchtop Pad Printer for Images up to 140mm from Inkcups Now Corp
Press release date: August 24, 2011
Industrial Grade Pad Printer for Apparel Tag and Promotional Product Printing
Inkcups Now Corp. has introduced the B150 pad printer (big brother of the B100 tabletop) - a compact industrial grade single-color pad printer for large images. The 150mm patented VersaCup ink cup assembly prints images of up to 140mm in diameter. The powerful compression capability of 779lbs allows for easy handling of large, hard print pads, which enables highest quality images on label-free garments, drinkware, injection molded housing, bezels and other products up to 5.5" inches in height (including fixture). Unlike most competitors' pad printers of a similar size, the B150 features the ability to program variable pad delays (both over the plate and the part), print speed and double print function, which gives the operator complete control over the printing cycle and print opacity.
The B150 can be used as a benchtop or mounted onto a base cabinet - and it fits comfortably in a standard size production cell of an apparel factory as well as a small printing shop. Tool-less setup allows for rapid job changeover. An illuminated plate system provides visibility to the work area. All these features make the ICN-B150 perhaps the most versatile and cost effective benchtop printer for large images available to the Label-free Garments and Promotional Products industries. For more information about the ICN-B150 benchtop pad printer, visit:
inkcups.com/equipment/pad-printers/icn-B150-benchtop-pad-printer/Default.aspx
More on Inkcups Now line of pad printing machines: http://inkcups.com/equipment/pad-printers.aspx
About Inkcups Now Corp:
Inkcups Now Corp provides comprehensive solutions for the specialty printing of promotional products and label-free apparel, as well as for a wide range of industrial and automotive parts, sporting goods, electronic and medical devices. The company offers equipment, consumables and expertise in pad printing, laser plate-making, inkjet printing and screen printing. Direct sales offices are located in the USA (Massachusetts, California, Georgia, Rhode Island, Arizona, Iowa), Canada (Ontario) and Honduras; additional warehouses are located in Italy, China and Hong Kong. Technical support is offered in English and Spanish.
www.inkcups.com 20 Locust St. Danvers, MA 01923 USA info@inkcups.com 1-978-646-8980 Follow us on Facebook: (www.facebook.com/Inkcups)
Press contact: Maria Savelyeva, Marketing Manager: marias@inkcups.com Technical contact: Mike Bissel, VP: mikeb@inkcups.com