Product News: Computer Hardware & Peripherals
Single Board Computer offers scalability across processors.
Press Release Summary: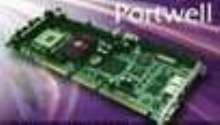 November 2, 2004 - Supporting Intel Pentium 4 and Intel Pentium M processors with 400/533 MHz FSB, Model ROBO-8712VLA features Intel 845GV chipset with Extreme Graphics and Dynamic Video Memory Technology. It is equipped with dual Gb Ethernet ports and Omni PCI connector, which allows for expansion. Six USB 2.0 ports, offering up to 480 Mbps, include 2 on bracket for external keyboard and mouse, and 4 internal expansions at front or rear side of system.
American Portwell Technology - Newark, CA
Original Press Release
Enhanced SBC by Portwell Delivers Exceptional Value for Robust Applications
Press release date: October 1, 2004
Based on our best selling Intel Pentium 4 SBC, Portwell now introduces an enhanced version of ROBO-8712VLA. The ROBO-8712VLA SBC features Intel. 845GV chipset, a chipset with innovative integrated graphics that offers a very stable image program and delivers outstanding performance. In most applications, the integrated Intel Extreme Graphics technology offers the best in compatibility and life cycle management.

ROBO-8712EVG2A, the enhanced model of ROBO-8712VLA, is scalable across different core processors allowing user to balance the performance and cost based on application. In addition, ROBO-8712EVG2A also supports the Intel Pentium 4 Processor-M The maximum TDP (Thermal Design Power) of Intel Pentium. 4 Processor-M is rated at around 35W (at a processor frequency of 2.2GHz), which is half the thermal dissipation generated by less efficient processors at a comparable speed. Customers can enjoy processor speed while minimizing concerns of heat and CPU cooling under critical environments.

Optimized for Ethernet connectivity, the ROBO-8712EVG2A delivers faster performance and manageability with two Gigabit ethernet ports. Portwell's proprietary Omni PCI connector allows for expansion especially for robust applications.

"ROBO-8712EVG2A provides customers with a highly integrated solution for various applications requiring a scalable processing power and graphics support," said Don Chang, President of Portwell. "This new design will provide customers with the latest in technology specifically targeted toward their applications and realize time to market."

"Embedded Intel Architecture allows the delivery of platforms that can scale across different ranges of price points, thermal envelopes, speeds and other processor features," said Steve Sciarappo, director of operations, Infrastructure Processor Division, Intel Corporation. "We work with members of the Intel Communications Alliance, such as Portwell, to help proliferate the latest processor technology to the embedded and communications market segments".

ROBO-8712EVG2A is also the first board that Portwell announced without FDD, PS/2 keyboard and mouse. All these interfaces are substituted by USB. This new design will offer greater availability for I/O intensive applications without interruption such as IRQ interference. ROBO-8712EVG2A with six USB 2.0 ports offering up to 480Mbps; two on bracket for external keyboard and mouse, four internal expansions either at the front or rear side of the system enabling ultra-fast data transfers.

ROBO-8712EG2A features:
-Support Intel Pentium 4 processors and Intel Pentium 4 Processors-M with 400/533MHz FSB
-Support DDR 333, up to 2GB system memory and integrated Intel Extreme Graphics technology with DVMT (Dynamic Video Memory Technology) that ensures the most efficient use of system memory
-Equipped dual Gigabit Ethernet ports on-board
-Audio in/out, Watch-dog timer, 6x USB 2.0 ports