Silicon Surge Suppressors suit confined space applications.
Press Release Summary: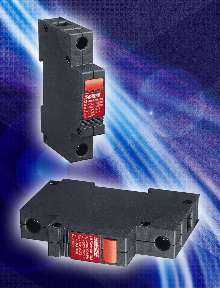 February 17, 2004 - Measuring ¾ x 2 x 3.5 in., Series I2R Storm Suppressors will protect at 330 and 500 V on 120 and 240 Vac systems, respectively. DIN rail mount units can carry surge current ratings in excess of 5 kA and can be configured in normal and common mode for single, split, and 3-phase systems. Featuring isolated contacts in European-style terminal plug for remote indication in event of failure or fault, Storm suppressors meet IEC Class II and IEEE C2 specifications.
Original Press Release
Transtector I2R Series Gets Bigger with Much Smaller "Storm" Product Family
Press release date: February 13, 2004
Transtector Systems, a Smiths Interconnect company, recently announced the fourth expansion of the I2R Series family of suppressors with the addition of the new silicon "Storm" model, designed for confined space and DIN mount applications. The I2R Series family of products now includes the original compact, flexible, plug-in module approach with over 200 configurations in Silicon or MOV, the compact MOV lines (LA, SA, LSA), and the ICP DIN mount for individual equipment protection. "The initial success of our robust and modular, yet compact footprint DIN-mount suppressor had many customers asking us just how much smaller we could go" said Jim Walker, Director of Engineering Transtector Systems. "The difficult task is properly assembling silicon diodes in a manner that maintains performance. The I2R Storm addresses the size and functionality issues with an "ultra-compact" unit that delivers silicon suppression's superior performance characteristics in a 35mm DIN mount package, yet measures less than three quarters of an inch (1.8cm) wide. The unit is also only slightly over 2 inches (6cm) tall and 3.5 inches (9cm) deep. The I2R Storm devices will protect at 330 and 500V on 120 and 240 VAC systems respectively. They carry surge current ratings in excess of 5kA and can be configured in normal and common mode for single, split and three phase systems. Featuring isolated contacts in European-style terminal plug for remote indication in the event of failure or fault, Storm suppressors are designed to meet IEC Class II and IEEE C2 specifications. About Transtector Systems Transtector Systems, Inc. was founded in 1967 and joined Smiths Interconnect Division in 1998. Transtector is an ISO 9001 certified manufacturer of surge suppression solutions for the worldwide telecommunications, medical, OEM and industrial markets. Transtector was the first surge suppression designer to use non-degrading silicon diodes in surge protective devices and holds two U.S. patents on suppression designs. About Smiths Interconnect Smiths Interconnect companies comprise of; EMC Technology, PolyPhaser, Transtector Systems, Radio Waves, Times Microwave Systems, Summitek Instruments, Florida RF Labs, Hypertac Europe, Hypertronics, LEA International, Sabritec, Icore International, Specac, Smiths Interconnect Shanghai and Smiths Interconnect Japan. Each enterprise within this division is a leader in its field and trades under their own strong brand name. Smiths Interconnect, a division of Smiths Group, provides specialist engineering solutions for customers, electronics interconnect, telecommunications, aerospace as well as military and satellite markets world wide. Further information contact: Shawn Thompson Product Manager Transtector Systems 10701 Airport Drive Hayden, ID 83835 USA Tel.: 208-772 8515 Fax: 208-762 6133 Email: sthompson@transtector.com Web:
www.transtector.com
OR Mike Quick Marketing Director Transtector Systems 10701 Airport Drive Hayden, ID 83835 USA Tel.: 208-772 8515 Fax: 208-762 6080 Email: mquick@transtector.com Web:
www.transtector.com