Product News: Electronic Components & Devices
Signal Recording System captures and plays back IF and RF signals.
Press Release Summary: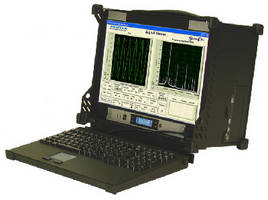 December 6, 2011 - Housed in 16.9 x 9.5 x 13.4 in. steel enclosure, Model RTR 2726 captures and plays back signals up to 700 MHz in shock- and vibration-prone environments such as vehicles, ships, and aircraft. System inlcudes built-in digital up- and down-converters, with record channels offering 16-bit, 200 MHz ADCs and playback channels offering 16-bit, 800 MHz DACs. Based on quad-core Intel Xeon® processor, system includes 8 hot-swappable solid-state disk drives in RAID configuration with up to 4 TB capacity.
Original Press Release
Pentek Announces Ruggedized Portable RF/IF Signal Recording and Playback Instrument for Vehicle, Ship and Aircraft Applications
Press release date: November 29, 2011
Digitizes, records, and reproduces up to four 80 MHz bandwidth signals
Provides up to 4 Terabytes of rugged, hot-swappable RAID solid-state storage
Portable shock-resistant housing includes complete Windows 7 workstation
Eliminates need for separate oscilloscope or spectrum analyzer

WASHINGTON, DC, SOFTWARE DEFINED RADIO FORUM- -Pentek, Inc., today released a rugged, portable, multiband recording and playback system for high-bandwidth IF and RF signals. The RTR 2726, latest in Pentek's turnkey Talon(TM) recorder family, is a complete workstation, data acquisition, and solid-state RAID (Redundant Array of Independent Disks) recording system in a box for the capture and playback of signals up to 700 MHz in shock- and vibration-prone environments such as vehicles, ships, and aircraft.

The RTR 2726 is Pentek's second-generation in portable recording devices, but the first to use the popular Cobalt(TM) series of software radio modules. "Customers with our first-generation RTS 2721 were using it in flight applications and asked for an upgrade to solid-state disk drives for tougher environments," said Rodger Hosking, vice president of Pentek. "We went much further, increasing signal frequency and bandwidth, and nearly tripling the recording speeds."

The system includes built-in digital up- and down-converters, with record channels offering 16-bit, 200 MHz ADCs and playback channels offering 16-bit, 800 MHz DACs. It can stream data to and from storage at sustained data rates of 1600 Mbytes/second, allowing the RTR 2726 to support four channels of record and/or playback in a variety of configurations. Storage consists of eight hot-swappable solid-state disk drives in a RAID configuration with up to 4 TB in total capacity.

Data files include time stamping as well as recording parameters and optional GPS (global positioning system) information. They are stored in the native Windows NTFS (new technology file system) format, allowing drive units to be read by other PCs without the need for extensive file conversion. Files can also be downloaded from the system through Ethernet, USB ports, eSATA ports or written to optical disks using the built-in 8X double layer DVD±R/RW drive.

Rugged Portable Operation
The RTR 2726 is housed in a steel enclosure with carry handle, measuring 16.9" W x 9.5" D x 13.4" H and weighing just 30 pounds. A fold-down front panel holds a full keyboard and touchpad and exposes the unit's built-in 17" LCD monitor. The system can also be closed and operated remotely using a built-in Ethernet port. Connections are made through the unit's side panel and include analog signal inputs and outputs, six USB ports, two Gigabit Ethernet ports, two eSATA ports, PS2 ports for external keyboard and mouse, and a VGA output for connection to an external monitor.

The cooling system in the RTR 2726 includes built-in temperature monitoring. A temperature monitor display is included underneath the system's LCD and built-in temperature alarms provide users with early alerts when operating in very hot environments.

Turnkey System
Like all of Pentek's recording and playback instruments, the RTR 2726 is a full Windows-based workstation. It includes a quad-core Intel Xeon® processor, a high-resolution 17" LCD monitor, keyboard, and a high-performance SATA RAID controller along with Cobalt modules for the data acquisition, signal conditioning and playback.

Software built into the RTR 2726 includes the Windows 7 Professional operating system and Pentek's SystemFlow Recording software. SystemFlow features a GUI for setup and control of the record and playback operations and is able to store configuration profiles for later one-click set-up. In addition, the SystemFlow software includes signal viewing and analysis tools that allow the user to monitor the signal prior to, and during, recording as well as examining the signal during playback. The tools include a virtual oscilloscope and virtual spectrum analyzer, eliminating the need for additional equipment during a data collection session.

Pricing and Availability
The Talon RTR 2726 is priced starting at $45,000 USD, depending on configuration and storage options. Delivery is 8 to 10 weeks ARO.

About Pentek
Pentek develops manufactures and markets innovative DSP systems and recorders to original equipment manufacturers, distributors and value-added resellers. Pentek offers powerful VME, VPX, VXS, PMC, XMC, cPCI, PCI, PCIe boards for data acquisition, software radio and digital signal processing featuring Texas Instruments C6000 DSPs, Freescale G4 PowerPCs and Xilinx FPGAs. Pentek's I/O includes A/Ds, D/As, FPGAs, digital up/downconverters and more. Pentek equips all products with high-performance I/O including gigabit serial interfaces and offers strong DSP software support.

Pentek, Talon and SystemFlow are trademarks or registered trademarks of Pentek, Inc. Brand or product names are registered trademarks or trademarks of their respective holders.

For access to the release and data sheets, please visit: http://www.pentek.com/whatsnew/viewrelease.cfm?index=159