Product News: Electrical Equipment & Systems
SiC Power Module supports switching frequencies to 100 kHz.
Press Release Summary: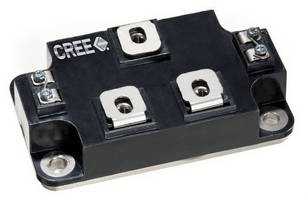 November 26, 2012 - Rated at 100 A current handling and 1,200 V blocking, all- SiC Cree® power module includes SiC (silicon carbide) MOSFETs and SiC Schottky diodes in 50 mm half-bridge configuration rated to 150°C max junction temperature. SiC components enable module to be operated at switching frequencies up to 100 kHz. Helping reduce size and weight of power conversion system, product suits high power converter, industrial motor drive, solar inverter, and UPS applications.
Original Press Release
Cree Extends Leadership in High-Efficiency Power Conversion Solutions with New Silicon Carbide High-Frequency Power Module
Press release date: November 12, 2012
Sets New Standard with Industry's First Fully Qualified, Production-Ready All-SiC Power Module
DURHAM, N.C. – Cree, Inc. (Nasdaq: CREE) continues to showcase the superior performance and reliability of its silicon carbide (SiC) power technology with the introduction of the first commercially available all-SiC Cree® power module.  The new high frequency module, rated at 100A current handling and 1200V blocking, allows higher efficiency, compact and lighter weight systems that can result in lower total system costs compared to conventional silicon-based technologies.
"An all-SiC module with these specifications enables us to meet our transit customers' demands for reduced size and weight of auxiliary power converters, while meeting efficiency and cost targets," said Fisal Al-Kayal, innovation and research engineer, Alstom Belgium Transport.
The module includes SiC MOSFETs and SiC Schottky diodes in a 50mm half-bridge configuration rated to 150°C maximum junction temperature.  The SiC components enable the module to be operated at exceptionally high switching frequencies that can reduce the size, weight and cost of the power conversion system. The new power module has demonstrated up to 100 kHz switching frequency. Target applications include high power converters, industrial motor drives, solar inverters and uninterruptible power supplies.
"The 1200V, 100A dual module extends our existing discrete MOSFET and diode products into higher power applications," explains Dr. Mrinal Das, product marketing manager, Cree Power and RF. "The efficient switching characteristics of an all-SiC module should allow system designers to meet customer demands for reduced size, weight and cost of the end-system, while reducing global energy consumption. Already, Cree SiC power devices have eliminated an estimated one million metric tons of annual CO2 emissions – the equivalent to planting 95 million trees."
Parts are available for immediate shipping through Digi-Key Corporation (http://www.digikey.com/Suppliers/us/Cree.page?lang=en) and Mouser Electronics (http://www.mouser.com/new/cree/cree-MOSFETdiode/) (CAS100H12AM1). Sample gate drivers are available upon request to Cree for module customers. For further information about the new all-SiC Cree power module, please visit
www.cree.com/sic-modules.
Visitors to Electronica 2012 Conference, November 13 – 16, can learn more about the new dual module at Hall A5, Booth 343.
About Cree
Cree is a market-leading innovator of semiconductor products for power and radio-frequency (RF) applications, lighting-class LEDs and LED lighting solutions.
Cree's product families include LED fixtures and bulbs, blue and green LED chips, high-brightness LEDs, lighting-class power LEDs, power-switching devices and RF devices. Cree products are driving improvements in applications such as general illumination, electronic signs and signals, power supplies and solar inverters.
For additional product and company information, please refer to
www.cree.com
.
Cree® is a registered trademark of Cree, Inc.