Product News: Mounting & Attaching Products
Shield-Less Connector is designed for 12.5 Gbps applications.
Press Release Summary: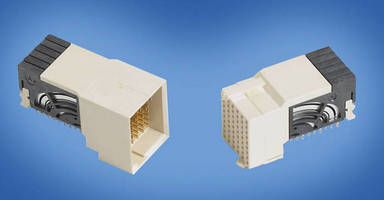 November 28, 2012 - Offering signal integrity at 12.5 Gbps with IEEE 802.3ap compliance, AirMax VS2™ (virtual shield) connector system comes in configurations with 3 and 4 pairs and offers full drop-in and mating compatibility with AirMax VS. Mechanical rigidity is provided via width of IMLA wafers and length of engaging slots, while Flat Rock application tools and Eye of Needle true position foster automated application. Integrated guiding pins and power contacts increase density while lowering complexity.
Original Press Release
FCI's Shield-Less AirMax VS2TM Connector Brings New Competitive Industry Benchmark for 12.5 Gb/s Applications
Press release date: November 14, 2012
ETTERS, PA – FCI, a leading manufacturer of connectors and interconnect systems, has developed a more advanced version of its AirMax VS® (virtual shield) connector system that sets new industry benchmark in terms of cost/performance ratio for 12.5 Gb/s data rate applications.
For nearly a decade, the award-winning AirMax VS connector system has been widely adopted in numerous telecom, networking, server and storage platforms up to 12.5 Gb/s data rate. In addition, the recently introduced AirMax VSe® provides an upgrade path towards 25 Gb/s for those who are willing to leverage their existing AirMax assets.
Conscious that our customers are always looking for ways to optimize their cost to performance ratio, FCI is proud to introduce AirMax VS2TM as a new industry benchmark for 12.5 Gb/s applications. AirMax VS2 leverages the signal integrity (SI) and mechanical improvements and innovations brought by AirMax VSe, retains a full drop-in and mating compatibility with AirMax VS, and provides a more competitive cost position for users.
In particular, AirMax VS2 brings the following improvements over AirMax VS:
•    Better signal integrity at 12.5 Gb/s with IEEE 802.3ap compliance and significant headroom
•    Better mechanical rigidity with wider IMLA wafers and longer engaging slots
•     Easier automated application with Flat Rock application tools and "Eye of Needle" (EON) true position
•    Better density and lower complexity through integrated guiding pins and power contacts
The AirMax VS2 has an identical footprint to AirMax VS connectors, making it compatible with existing board layouts. The open pin field design preserves critical pin assignments in existing AirMax VS designs, providing opportunities for cost savings as new or upgraded equipment is deployed.
"For example, a backplane or chassis can be designed to allow the installation and continued use of legacy daughter cards, line cards, or blades that are already in the field as well as new or future higher speed module cards," said Fred Gilbert, Portfolio Director for High Speed backplane and mezzanine products at FCI. "We have also engineered the AirMax VS2 to minimize manufacturing cost by applying best cost practices in materials and processes."
The new AirMax VS2 will become progressively available in mass production quantities for 3,4,5 and 6 pair configurations during the first half of 2013. Production samples for 3 pairs and 4 pairs will be available in early December from FCI sales representatives.
"With the AirMax VS2 introduction, FCI is putting again innovation at work to better satisfy customer requirements for optimized performance and cost effective solutions. Airmax VS2 will allow them to meet their cost reduction targets and outperform their competition," concluded Fred Gilbert.
For additional information about FCI's AirMax VS2™, please visit
www.fciconnect.com
/newdevelopments
Press contacts:
Gilles Rizzo     33-1-7267-3761          gilles.rizzo@fci.com
Garth Miller      1-919-872-8172          garth.miller@btbmarketing.com
About FCI Electronics
With 6,680 employees in 30 countries and sales of 612M USD in 2011, FCI Electronics is a global manufacturer of connectors for various markets such as data, communications, consumer, industrial, instrumentation, medical and automotive. For more information, please visit us at
www.fciconnect.com
.