Product News: Controls & Controllers
Servo Drives target Ethernet-based machine automation.
Press Release Summary: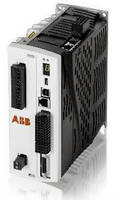 September 21, 2012 - Offering output power up to 9 A, MicroFlex e150 Ethernet Servo Drives are compatible with EtherNet/IP, Modbus TCP, and TCP/IP protocols. Embedded programming capability allows drives to be used stand alone for single-axis or distributed intelligence motion control applications. With universal encoder interfacing, drives may be connected to dual encoders - one incremental encoder and one serial-base encoder. In addition, drives support Safe Torque Off, in accordance with IEC 61800-5-2.
ABB Inc. - Drives, Motors, Generators, Power Electronics - New Berlin, WI
Original Press Release
New Feature-Rich ABB Ethernet Servo Drive Provides Versatile Platform for Cutting-Edge Machinery
Press release date: September 11, 2012
Ideal drive for the Ethernet-based machine automation market
NEW BERLIN, WI., – ABB has launched a feature-rich servomotor drive range for the fast-growing Ethernet-based machine automation market. The drives are compatible with numerous industrial Ethernet protocols, and offer a universal-encoder interfacing capability, local motion control programming, and integrated functional safety capability. This breadth of features offers an enormously flexible platform for realizing new machinery designs, and is expected to appeal to OEM machine builders.
"Machinery OEMs need versatile products, and these new drives have versatility in abundance - without needing to add hardware or choose configuration options," says Michael Mikolajczak, Product Line Manager, Motion Control, ABB. "The built-in multi-protocol Ethernet capability and local intelligence mean that the applications potential is truly broad. And the processing performance is spectacular, too - offering some 20 times the speed of one of our popular existing generations of smart drives; this makes this drive ideal for performance-intensive applications such as high-speed labeling."
ABB is launching its new MicroFlex e150 Ethernet servo drive family, offering output powers up to 9 A.
The MicroFlex e150 drives have a wealth of capability. Real-time operation with EtherCAT, and compatibility with EtherNet/IP, Modbus TCP and TCP/IP protocols provide a 'universal' drive platform that can be employed in many different ways to suit different customers and applications - from networked systems hosted by PLCs or other devices, to motion control systems with distributed intelligence.
The drives are intelligent and feature an exceptionally powerful embedded programming capability that is compatible with ABB's motion control language, MINT. This feature allows the drives to be used stand alone for a vast array of single-axis or distributed intelligence motion control applications, from performing simple moves to complex motion tasks such as flying shears or cam- motion profiles. Built-in I/O and extended I/O - including fast latch inputs for registration applications - comes as standard to support such application configurations.
As standard, the drives also offer a flexible 'universal' encoder interfacing capability that provides exceptional versatility of use. The drives may be connected to dual encoders - one incremental encoder, and one serial-base encoder such as EnDat 2.2, SSI or BiSS. This allows dual feedback configurations - with separate velocity and position feedback - to be used to eliminate mechanical inaccuracies in precision applications such as CNC machinery. It also simplifies integration into configurations where an axis is following a master axis or centralized 'line shaft' such as packaging machines.
One further major feature of ABB's new drives is support for the Safe Torque Off or STO functional safety, in accordance with IEC 61800-5-2, and designed to meet SIL 3 and performance-level e (PLe) standards. This helps machine builders to incorporate high-integrity safety into machinery designs, by disabling the drive's output so that it cannot generate torque in the motor.
ABB believes the new drives are ideal for a wide range of machine automation applications, such as metal cutting machinery (plasma/waterjet), grinding or glue laying, as well as a variety of common packaging automation such as form/fill/seal. Two high-speed registration inputs and multi-tasking programmability also mean that the drives are ideal for speed-intensive applications such as labeling.
ABB can also supply the drives with the ABB AC500 PLC, a scalable PLC platform for automation applications. This PLC can communicate using an extensive range of standard fieldbuses, including Ethernet-based protocols such as EtherCAT.
For more information, please visit
www.abbmotion.com
  and your local ABB Baldor representative.
ABB (www.abb.com) is a leader in power and automation technologies that enable utility and industry customers to improve performance while lowering environmental impact. The ABB Group of companies operates in around 100 countries and employs about 145,000 people.