Product News: Computer Hardware & Peripherals
Secure, Dual-Band Wi-Fi Router offers 750 Mbps speed.
Press Release Summary: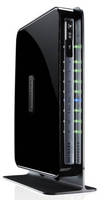 September 10, 2012 - With 300 + 450 Mbps speed, NETGEAR N750 Dual Band Gigabit WiFi Router - Premium Edition (WNDR4300) handles HD video streaming and large file transfers. Apple® Time Machine® compatibility and secure NETGEAR ReadyShare® Cloud service come standard, along with simultaneous dual-band (2.4 and 5.0 GHz) capability and 4 gigabit Ethernet ports. DLNA-compatible router also offers such security features as WPA and WPA2 protocols, double firewall (SPI and NAT) protection, and DoS attack prevention.
Original Press Release
NETGEAR Unleashes Feature-Rich High Performance N750 Premium WiFi Router
Press release date: August 31, 2012
-Enables customers to create secure private cloud for safe and secure remote access to their data and supports Apple Time Machine backup for Macs- New Delhi, India: NETGEAR®, Inc. (NASDAQGM: NTGR), a global networking company that delivers innovative products to consumers, businesses and service providers, has announced the launch of NETGEAR N750 Dual Band Gigabit WiFi Router - Premium Edition (WNDR4300), a wireless solution that combines a feature-rich set with blazing fast 750Mbps (300 + 450 Mbps) speed to stream HD video, support multiplayer gaming and handle large file transfers. Featuring secure NETGEAR ReadyShare® Cloud service and compatibility with Apple® Time Machine®, the NETGEAR N750 is a cost-effective router that makes home networks faster, more reliable and easier to manage in medium-to-large homes. The NETGEAR N750 Wireless Dual Band Gigabit Premium Router includes NETGEAR ReadyShare Cloud service, which enables the creation of a highly secure private cloud for easily accessing and sharing files wirelessly. NETGEAR ReadyShare Cloud keeps all your files stored securely at home but available to transfer, edit or share anywhere, anytime remotely via your smartphone, tablet or PC. Simply and securely drag and drop files and folders without the hassle of using multiple file sharing sites or uploading. The NETGEAR N750 Wireless Dual Band Gigabit Premium Router's compatibility with Apple Time Machine provides automatic wireless backup to a connected USB hard drive for Macs. The router also offers expanded TiVo® Storage via a connected USB drive for saving your favorite programs and NETGEAR ReadyShare Printer for sharing USB printers on the network. Simultaneous dual band (2.4 and 5.0 GHZ) and four gigabit Ethernet ports ensure an ultra-fast connection and stronger WiFi connections for medium-to-larger homes. Commenting on the launch of the new power -packed, multi-featured NETGEAR N750 Premium WiFi router, Subhodeep Bhattacharya, Regional Director, India & SAARC said, "NETGEAR has always endeavoured to provide SMART IT solutions to its customers. By offering, NETGEAR N750 Dual Band Gigabit WiFi Router - Premium Edition (WNDR4300) in the market definitely raises the bar in providing one of its kind WiFi Routers. The unique NETGEAR ReadyShare Cloud feature enables to keep all your files stored securely at home but available to transfer, edit or share anywhere, anytime remotely via your smartphone, tablet or PC thus making it more tech-savvy." The NETGEAR N750 Wireless Dual Band Gigabit Router Difference: · Faster WiFi speed - up to 750 Mbps (300 + 450 Mbps) for fast HD video streaming, simultaneous downloads and lag-free online gaming · NETGEAR ReadyShare Printer easily turns any existing USB printer into a fully functional networked printer that is compatible with Macs and PC · NETGEAR Genie® is a free utility for PCs and Macs that enables home users to easily control, monitor, repair and manage their home networks through a simple dashboard · Makes any printer compatible with Apple AirPrintTM so that iPads® or iPhones® can print to any printer in the home · NETGEAR MyMedia(TM) enables you to quickly find and play media files in your network · Supports the DLNA standard for streaming media to DLNA-enabled HDTVs, Blu-ray(TM) players and game consoles · Advanced Quality of Service (QoS) provides the best possible viewing experience for Internet video by giving priority to video streams over other home network traffic · Security is provided by WPA and WPA2 protocols for WiFi, double firewall (SPI and NAT) protection against Internet threats, and denial-of-service (DoS) attack prevention · NETGEAR Live Parental Controls offer centralized, flexible and reliable parental control through web filtering for all devices on the network for a safe online environment Easy to Install, Set Up and Use Setup for the NETGEAR N750 Dual Band Gigabit WiFi Router - Premium Edition is easy for the Apple iPad, tablets, smartphones and computers. Just the push of a button establishes WiFi connections (WPS), and NETGEAR Genie makes home network management simple. Pricing and Availability The NETGEAR N750 Dual Band Gigabit WiFi Router - Premium Edition (WNDR4300), is available through NETGEAR's authorized distributors at MRP of Rs. 15,000/- with warranty of 2years. More Information Learn more about the NETGEAR N750 Dual Band Gigabit WiFi Router - Premium Edition at www.netgear.com/wndr4300. To learn more about other new NETGEAR consumer products and services, please visit www.netgear.com. About NETGEAR, Inc. NETGEAR (NASDAQGM: NTGR) is a global networking company that delivers innovative products to consumers, businesses and service providers. For consumers, the company makes high performance, dependable and easy to use home networking, storage and digital media products to connect people with the Internet and their content and devices. For businesses, NETGEAR provides networking, storage and security solutions without the cost and complexity of big IT. The company also supplies top service providers with retail proven, whole home solutions for their customers. NETGEAR products are built on a variety of proven technologies such as wireless, Ethernet and Powerline, with a focus on reliability and ease-of-use. NETGEAR products are sold in approximately 32,000 retail locations around the globe, and through approximately 42,000 value-added resellers. The company's headquarters are in San Jose, Calif., with additional offices in 25 countries. NETGEAR is an ENERGY STAR® partner. More information is available at http://www.NETGEAR.com or by calling (408) 907-8000. Connect with NETGEAR at http://twitter.com/NETGEAR and http://www.facebook.com/NETGEAR. © 2012 NETGEAR, Inc. NETGEAR, NETGEAR Genie, READYSHARE, and the NETGEAR logo, are trademarks or registered trademarks of NETGEAR, Inc. in the United States and/or other countries. Apple, iPad, iPhone, Mac, and Time Machine are registered trademarks of Apple Inc. AirPrint is a trademark of Apple Inc. TiVo is a registered trademark of TiVo, Inc. Other brand and product names are trademarks or registered trademarks of their respective holders. Information is subject to change without notice. All rights reserved. Media Contact: Meenakshi Alliance Public Relations 09810577773