Product News: Computer Hardware & Peripherals
SATAIII Full Capacity SSD performs redundant storage.
Press Release Summary: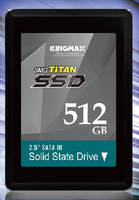 June 5, 2014 - Available in 64, 128, 256, and 512 GB capacities, SMG Titan features SandForce control chip with high-speed NAND Flash kernels and standard SATAIII 6 Gbps interface. Using flash memory to store data, device has max read/write speeds of 550 Mbps/520 Mbps. Drive also supports RAISE fault-tolerant technology as well as Error Correction Code and Cyclic Redundancy Check. Use of wear measurement and NAND Flash chip monitoring functions prolong lifespan of NAND Flash chip.
Kingmax Micro Technology Inc. - City Of Industry, CA
Original Press Release
KINGMAX SATAIII Full Capacity SSD - Advanced SMG Titan
Press release date: May 26, 2014
The KINGMAX SME Xvalue super value SSD has become the first choice for entry-level users after it was released. In response to the continued increase of market demands for SSD, KINGMAX has again released a new product - the Full Capacity SMG Titan.
KINGMAX is a manufacturer of memory-related products; products are sold globally and it has over 200 dealers around the world. The opening of new capacities for NAND Flash on the market, drove prices of the SSD down to the sweet spot, which helped increase the permeability of SSDs into the market. KINGMAX SSD products series are also expected to benefit from this.
There are many brands available on the market. The problem of capacity vacuity is frequently seen, which causes consumers to be suspicious. KINGMAX has always paid extra attention to the problem of specifications. The SATAIII Full Capacity SSD released this time comes in four capacities for consumers to choose from: 64GB, 128GB, 256GB and 512GB. The SMG Titan also used a SandForce control chip with high speed NAND Flash kernels and the standard SATAIII 6GB/s interface; it uses flash memory to store data and has a maximum reading speed of 550MB/s while the writing speed can also reach 520MB/s. The SMG Titan also supports RAISE fault-tolerant technology and can perform redundant storage to the data; it also supports Error Correction Code (ECC) and Cyclic Redundancy Check (CRC). The use of wear measurement and NAND Flash chip monitoring functions can prolong the lifespan of the NAND Flash chip, so not only is the durability of the product increased, the security of the data is also enhanced. What's more surprising is that the SSD SMG Titan can be stored under environments with temperatures between -55°C~95°C, already enterprise-level specification. To buy such high-specification products at the price of consumer products is definitely worth every penny!
The SSD SMG Titan allows consumers to enjoy excellent computer operating environments; its advantages include high reliability, power-saving and noise-free, and it can also significantly reduce the risk of machine malfunction. It supports Native Command Queuing (NCQ), to optimize the order of file data accessing sequence most efficiently and increase the overall work efficiency. It also has a built-in Error Correction Code (ECC) and Global Wear Leveling functions and anti-shock capabilities up to 1500G, to protect important data.
SSD SMG32/SMG35 Titan
Specification
Capacity: 64GB/128GB/256GB/512GB
Dimension: 100.5mm(L)x69.85mm(W)x7.0mm(T)
Weight: 71g
Interface: SATA III 6Gb/s
Supports Global wear-leveling
Supports NCQ/Trim
Supports 55bit BCH ECC
Sequential read and write :
- 64GB Read : Up to 550 MB/s Write : Up to 500 MB/s
- 128GB Read : Up to 550 MB/s Write : Up to 520 MB/s
- 256GB Read : Up to 550 MB/s Write : Up to 520 MB/s
- 512GB Read : Up to 550 MB/s Write : Up to 520 MB/s
Random write:
- 64GB/128GB/256GB up to 75,000 IOPS
- 512GB Up to 40,000 IOPS
Operating voltage: DC 5V +/-5%
Operating Shock: 1500G/1ms
High level reliability, MTBF:1.2 million Hours
Operating Temperature: 0~70°
Storage Temperature: -55~95°
3 years warranty
Feature
Full capacity, high performance
High speed transmission and quick start
Rapid transfer than HDD
Shock/Vibration resistance
No Audible Noise
High reliability
Global wear-leveling increases product life and optimize performance
Strongly Wear leveling algorithm to enhance lifetime
Strongly ECC algorithm to correct data
Application: NoteBook/Desktop
About KINGMAX
KINGMAX Group is the world's first RAM/Flash memory module manufacturer that features vertical industrial integration capabilities, solid R&D capability and innovative cutting-edge patented technology.  KINGMAX believes that "Quality comes from perfection in technology", and its mission is to offer innovation and perfection in all its products. All the KINGMAX products therefore undergo rigorous tests before launching to the market to ensure the highest quality, and with their lifetime warranty, you can be completely assured that KINGMAX products are your best choice. For more information, please visit the KINGMAX official website at:
www.kingmax.com
Media Contact
Collins Lin
Marketing Dept. Brand Marketing Div.
KINGMAX Digital Inc
E-mail:
collins.lin@kingmax.com.tw
TEL: 886-2-2567-7111 ext: 6675