Product News: Labels Tags Signage & Equipment
Sandwich Boards can adapt to diverse applications.
Press Release Summary: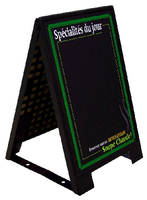 March 2, 2009 - Comprised of 2 polyethylene graphic boards hinged together with plastic connecting pins, SB-BK Graphic Signage Boards offer interchangeable graphic capability and come in tripod, A-Frame, and corner wall-mount designs. All accept 24 x 36 in. posters and silk screen/vinyl decals on materials such as marker board, Masonite, and corrugated plastic. Designed as indoor/outdoor, all-purpose signs, 26½ wide X 42 in. high products contain pre-molded weight pockets and concrete strapping.
Original Press Release
Walls + Forms Introduces Model SB-BK Sandwich Boards which Brings the Original Early 20th Century Advertising to a New Era
Press release date: January 19, 2009
Walls + Forms Inc., a designer, manufacturer, and distributor of display components and systems, now offers model SB-BK Graphic Signage Boards that bring the original early 20th century advertising to a new era. These cost-effective indoor/outdoor all-purpose signs offer interchangeable graphic capability and are available in a tripod, standard A-Frame, and corner wall-mount design. All accept standard 24" X 36" posters and silk screen/vinyl decals on materials including marker board, Masonite, and corrugated plastic. They are ideal for coordinating signage inserts for menus and promotional activities. All styles are UPS-able and ready-to-ship from Walls + Forms. These lightweight, ultra-strong polyurethane plastic displays are manufactured to withstand the harshest exterior conditions and are ideally suited for indoor and outdoor use. They are made to perform year after year. All contain pre-molded weight pockets and concrete strapping. They include easy to use mounting hardware consisting of Velcro tabs and button locks. A variety of accessories are available for adapting sandwich boards to a diversified number of applications. For example, clear lens protectors from Walls + Forms have a hinged top feature that keeps rain and snow from penetrating through to the graphic. In addition, Walls + Forms(TM) plastic slatwall can convert the sandwich boards to a merchandising display. Walls + Forms sandwich boards are available in standard black and consist of two commercial grade molded polyethylene graphic boards. The set is hinged together with plastic connecting pins. It comes complete with two tie straps and a one-bag assortment of Velcro tabs and push tabs for graphic placement. The buttons were designed for semi-permanent applications. Each sandwich board measures 26 ½" wide X 42" high overall. Distributor inquiries invited. For further information, visit
www.wallsforms.com/signage/sandwich_boards.htm
or contact sales department, Walls + Forms Inc., P.O. Box 741112, Dallas, TX 75374-1112 USA. Phone: 972-745-0800. Fax: 972-304-8402. E-Mail: info@wallsforms.com Url:
www.wallsforms.com
& displaysource.com