Product News: Materials & Material Processing
Sample Solutions enable verification of DMSO dispenses.
Press Release Summary: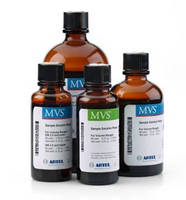 January 14, 2013 - Designed for use with MVS® Multichannel Verification System, 100% DMSO-based Sample Solutions will provide users with ability to measure accuracy and precision of volumes of DMSO dispensed into microwell plates. First in line of solutions simplifies volume verification process for users of sub-µL liquid handling instruments, and will help ensure validity of high-throughput screening assay results.
Original Press Release
Improving the Validity of High throughput Screening Assays
Press release date: January 10, 2013
Artel simplifies the verification of low-volume DMSO dispenses

WESTBROOK, Maine, -- Artel is launching the first in a new line of 100% DMSO-based Sample Solutions for use with the MVS® Multichannel Verification System. These will provide users with the ability to measure the accuracy and precision of volumes of DMSO dispensed into microwell plates. The first in the new line of DMSO solutions dramatically simplifies the volume verification process for users of sub-microliter liquid handling instruments, and will help them ensure the validity of their high-throughput screening (HTS) assay results.

Research by North Carolina State University's Dr. Nathaniel Hentz has shown that the volumes dispensed during drug screening programs can have a significant effect on the results obtained by assay screens. Any error made during these deliveries affects the concentration of the drug candidate and can lead to misleading data about compound activity being generated. Because DMSO has very different physical properties than water it behaves differently when handled by air-displacement pipettors or acoustic droplet ejectors, creating the need for a solvent-specific volume verification method such as that provided by the new DMSO Range E Solution for the MVS.

Celgene's Jason Haelewyn, a long-time user of the MVS, has been waiting expectantly for this product to be released: "Our laboratory has used the Artel MVS for the last five years to validate volume transfers for our automated liquid handling devices. While the MVS has proved valuable as an easy to use aqueous liquid volume validation, most of our liquid transfers involve moving our compound library which is solvated in DMSO. We are eagerly looking forward to the new DMSO-based Sample Solutions to make it even easier to validate the liquid transfers of DMSO solutions on our systems."

During HTS experiments, many transfers of potential new drug candidates are delivered as DMSO solutions using acoustic droplet ejection instruments which have helped miniaturize assays (and their associated costs) due to their ability to deliver sub-microliter volumes. In addition, the dissolution of compounds into DMSO, and preparation of source plates are often performed using air displacement pipettors. The performance of all these liquid handling instruments, along with pin tools, can be validated using the new DMSO solution.

"We have worked hard to develop this ready-to-use DMSO-based solution to help our customers have confidence in the results of their high throughput drug screening campaigns," said Tanya Knaide, MVS Product Manager at Artel. "This first product has been designed to meet the automated liquid handling performance measurement needs for those customers using sub-microliter dispensing technologies, and provides them the ability to standardize their liquid handlers using a DMSO-based solution."

To find out more about this exciting addition to the MVS product line, please visit: www.artel-usa.com/dmso.aspx

About Artel
Artel is the world-leading liquid handling quality assurance expert. The company specializes in solving liquid handling quality, productivity and compliance challenges for life science laboratories. Its customers include pharmaceutical and biotechnology companies, regulatory bodies, as well as laboratories in the university, clinical, diagnostic, forensic, public health and environmental sectors.

Since 1982, Artel has been using its expertise and range of ratiometric photometry-based systems to improve laboratory quality, productivity and compliance by ensuring liquid handling instruments generate reliable assay data and comply with regulatory demands. Artel also provides a broad and fully customizable range of quality assurance support, training and consultation services including Liquid Handler Performance Verification services for automated laboratories, on-site Pipetting Technique Training and Quality Management Certification for pipette users and laboratory managers.

World-leading organizations such as Amgen, ARUP, Bristol-Myers Squibb, Celgene, Centers for Disease Control, DuPont, Eli Lilly, FBI, Genentech, Genomic Health, Mayo Clinic, Memorial Sloan-Kettering Cancer Center, Merck, Pfizer, Procter & Gamble and the U.S. FDA depend on Artel technology to help them meet their objectives for quality and productivity.

For more information, contact Artel at 25 Bradley Drive, Westbrook, ME 04092; Tel: 207-854-0860; Fax: 207-854-0867; Website: http://www.artel-usa.com/

Editorial Contact:
Matt Wilkinson PhD, MBA
Scientific Communications Manager, Artel
Tel: 888.406.3463
mwilkinson@artel-usa.com

Technical Contact:
Tanya Knaide
Product Manager, Artel
Tel: 888.406.3463
tknaide@artel-usa.com


Web Site: www.artel-usa.com