Product News: Computer Hardware & Peripherals
Safety Laser Scanners offer 270° detection angle.
Press Release Summary: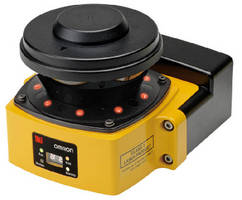 July 16, 2014 - Providing 4 m safety range and 15 m warning zones, Series OS32C-4M is suitable for safeguarding large robotic cells and body entry detection. Pollution tolerance modes ensure safe machine operation, even in dirty and dusty environments. Scanners can report status and measurement data via EtherNet/IP™, enabling users to check operating state and analyze cause of emergency stop via LAN. Consuming just 5 W of power, Type 3 scanners provide configurable object resolutions of 30, 40, 50, and 70 mm.
Omron Automation & Safety - Hoffman Estates, IL
Original Press Release
EtherNet/IP(TM)-enabled OS32C-4M Safety Laser Scanners from OMRON Automation and Safety Increase Safety Monitoring Flexibility and Machine Productivity
Press release date: July 1, 2014
SCHAUMBURG, IL — OMRON Automation and Safety's new OS32C-4M is the latest addition to the company's award winning family of safety laser scanners. These Type 3 safety laser scanners provide a 4 meter safety range, 15 meter warning zones and an impressive 270 degree detection angle that is perfect for safeguarding large robotic cells and body entry detection. They can also be mounted 4 meters high to eliminate the possibility of tampering. New pollution tolerance modes ensure safe machine operation, even in the dirtiest and dustiest application environments. The result is more flexible safety monitoring and configuration that enables improved machine safety and productivity. All models meet global standards for worldwide application; select models are available for same-, 3- or 5-day shipment.
These safety laser scanners can report status and measurement data via EtherNet/IP™. This helps keep machines up and running by enabling users to check the operating state and analyze the cause of an emergency stop via LAN, and take quick corrective action, even in large-scale applications with multiple scanners. They are also available with user tools that help speed customer development time and conserve engineering resources.
"Easy to use function blocks are ideal for simple PLC controlled status and data updates. A simple and effective method of integrating the status and measurement data to a PLC, these function blocks can be used in the PLC code to automatically configure the PLC to process and display the information. Software examples are available for large process PC controlled applications where large amounts of data are logged to determine product quality, consistency or process variations," says Mike Frey – Product Marketing Manager, Safety.
Additionally, the configuration tool provides a "maintenance access level" enabling users to make only non-safety related programming changes, and employs a "non-safety checksum" for easier re-commissioning when non-safety changes are made. A "zone coordinate import/export" function allows users to modify the shape and size of a monitoring zone by importing coordinates from a text file.
All OS32C safety laser scanners provide configurable object resolutions of 30, 40, 50 and 70 mm to accommodate hand and arm detection applications. They feature a compact 104.5 mm profile, light 1.3 kg weight and consume just 5 W power (3.75 W in standby mode). Combined with innovative features that include up to 70 sets of highly flexible and easily configurable detection zones, the OS32C is easy to handle and install, and delivers the versatility needed to solve diverse presence detection and collision avoidance application needs. The status display and eight patented Individual Sector Indicators also enable users to determine at a glance the unit's operating state and error codes, and assess the direction of an intrusion.
STI safety laser scanners are a 2010 Plant Engineering magazine Product of the Year winner, and a 2011 Design News "Golden Mousetrap" finalist.
MEDIA CONTACTS: 
Mark Traxler | 847.285.7176 |
mark.traxler@omron.com
About Omron Automation and Safety
Headquartered in Kyoto, Japan, OMRON Corporation is a multi-billion-dollar, diversified company with business units producing industrial automation products, electronic components, healthcare equipment and ticketing systems. With more than 80 years of experience satisfying machine builders, Omron Automation and Safety is a global leader providing complete automation and machine safeguarding solutions for industrial applications. The Sysmac automation platform and STI brand safety products are world renowned for quality, reliability and ease of use and integration into control systems. The Pan-American headquarters is located in Hoffman Estates, Illinois, USA.
To learn more about Omron Industrial Automation, contact:
In USA, Tel.: 866-88-OMRON.
E-mail:
omroninfo@omron.com
.
In Canada, Tel.: 866-98-OMRON.
E-mail:
askomron@omron.com
In Mexico, Tel: 81 1156 9910.
E-mail: 
mela@omron.com
Internet:
www.omron247.com