Product News: Computer Hardware & Peripherals
Safety Laser Scanner has 104.5 mm profile design.
Press Release Summary: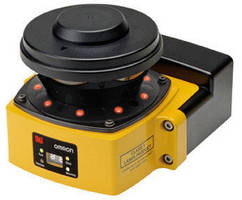 March 11, 2014 - Available with selectable 30, 40, 50, and 70 mm resolutions, OS32C covers diverse area and offers machine safety applications. Configuration tool reduces programming time by letting users copy and paste detection zones and zone sets. Consuming 5 W (3.75 W in standby), scanner offers 270° detection angle, system monitoring over LAN via integrated Ethernet port, and adjustable response time from 80–680 msec. When scanner needs to be mounted upside down, users can invert 7-segment display.
Omron Automation & Safety - Hoffman Estates, IL
Original Press Release
Get Even More Versatility and Further Improve Productivity with the World's Most Compact Type 3 Safety Laser Scanners
Press release date: February 15, 2014
OS32C Safety Laser Scanners are now available with multiple resolutions, an updated configuration tool and other enhancements that increase usability and significantly reduce programming time
SCHAUMBURG, IL — The OS32C Safety Laser Scanner from OMRON Automation and Safety is now available with selectable 30, 40, 50 and 70 mm resolutions.  This makes the OS32C an ideal safeguarding solution covering  a wider array of area and machine safety applications, including point-of-entry hand detection applications and other instances where safety light curtains are simply too large to fit or may impair productivity.  It also enables the OS32C to be mounted closer to the pinch point, which can help increase machine productivity and optimize valuable floor space.
Further enhancing safety and productivity, the latest version (1.4.2) of the OS32C configuration tool enables users to copy and paste zones and zone sets to significantly reduce programming time.  Version 1.4.2 also offers record system monitoring and playback to help users troubleshoot false nuisance intrusions, as well as configuration checksum functionality to help identify any program tampering after equipment has been commissioned.  It provides troubleshooting tips in the fault log, and makes available additional zone shapes.
Additional OS32C updates include an improved standby mode that minimizes the potential for optical interference with other equipment on the factory floor, as well as the ability to invert the 7-segment display in applications where the scanner needs to be mounted upside down.
The OS32C features a compact 104.5 mm profile, light 1.3 kg weight and low 5 W power consumption (3.75 W in standby mode).  Combined with innovative features such as highly flexible and easily configurable detection zones, the OS32C is not only easy to handle and install, but also delivers the versatility needed to solve diverse presence detection and collision avoidance application needs.  Some of the OS32C's most significant benefits include:
• Faster and easier equipment commissioning and troubleshooting with Patented Individual Sector Indicators
• Up to 4 times faster MTTR than other safety laser scanners, with lower maintenance cost and manufacturing down time cost from equipment damage
- Using the unique Memory Module, a maintenance technician can get the manufacturing line running again – without using a computer
• System monitoring over LAN via the integrated Ethernet Port
• Lowest profile equipment designs thanks to the world's smallest footprint, which is particularly significant in material handling applications
• Lowest power consumption, which is perfect for battery powered mobile applications
"In addition to being the industry's most compact safety laser scanner, the OS32C is also the first to provide integrated management via Ethernet.  This helps keep machines up and running by allowing the user to check the operating state and analyze the cause of an emergency stop via LAN, and take quick corrective action, even in large-scale applications with multiple scanners," says Sergio Aguilar, Product Manager.  "The OS32C's status display and eight patented Individual Sector Indicators also enable users to determine at a glance the unit's operating state and error codes, and assess the direction of an intrusion."
The OS32C Safety Laser Scanner features an impressive 270° detection angle that enables a single scanner to provide presence detection, including two warning zones and one safety zone, on two sides of a machine.  Its small size also means that it can even be used inside a machine. 
Installed vertically, the OS32C serves as a complete intrusion detection solution.  The unit's innovative Reference Boundary Monitoring function constantly monitors reference points and turns off the safety outputs when a shift in its physical position is detected.  This prevents unauthorized mounting modifications to the laser scanner.
The OS32C Safety Laser Scanner is also a robust and flexible collision avoidance solution that can provide front/rear monitoring, or 270° monitoring, in AGV applications.  The OS32C's light weight and compact body make it easy to install, and its low power consumption minimizes battery load.  For complex AGV tracks up to 70 zone set combinations can be set, each with one safety zone of up to 3 m and two warning zones of up to 10 m.  The two warning zones can be set to support various purposes, such as warning sound and speed control. 
The OS32C's simplified I/O wiring method requires fewer inputs to configure multiple zones when compared with other safety laser scanners.  This speeds up installation and significantly reduces the potential for wiring errors.
Users can tailor the OS32C to a specific application by specifying at time of order whether the power and Ethernet connections are on the back or left side of the scanner.  Once installed, users can adjust the unit's response time from 80 to 680 ms to prevent erroneous machine stoppages caused by environmental pollutants.  Additionally, users can quickly and easily configure the safety and warning zones with the OS32C's easy to use configuration software and a PC.  And because each safety laser scanner's configuration is stored in the I/O block, should the sensor ever become damaged it can quickly be replaced, with no reprogramming needed.
The award winning OS32C is a 2010 Plant Engineering magazine Product of the Year winner, and is also a 2011 Design News "Golden Mousetrap" finalist.
About Omron Automation and Safety
At OMRON Automation and Safety our mission is "to keep people safe and highly productive on the factory floor."
We accomplish this by leveraging our world-renowned Omron STI safety products and solutions brought to machine builders and users through an international distribution channel that includes more than 100 factory-trained distributors in the United States and Canada alone. These skilled partners have access to an unmatched family of machine safety solutions and application expertise to solve the toughest automation challenges. In short, OMRON Automation and Safety is the leading global provider of machine safety and automation solutions, with the know-how to recommend and apply unbiased solutions for our customers whenever and wherever they need us.
For more information contact OMRON Automation and Safety, The Americas Headquarters, Schaumburg, IL USA; 847-843-7900; 800-556-6766;
www.omron247.com
.