Product News: Electronic Components & Devices
S-Band VCO typically draws 15 mA of current.
Press Release Summary: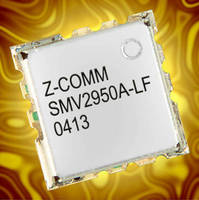 January 22, 2013 - Operating from 2,850–3,050 MHz with 0–2.5 Vdc tuning voltage range, model SMV2950A-LF features phase noise of -85 dBc/Hz @ 10 kHz offset while working on 3.0 Vdc supply. RoHS-compliant VCO provides end user typical output power of 3±3 dBm into 50 Ω load and operates over -40 to 85°C range. VCO comes in 0.3 x 0.3 x 0.08 in. SUB-L package, suppresses second harmonic to better than -15 dBc, and covers frequency range with tuning linearity of better than 1.1:1.
Original Press Release
VCO: SMV2950A-LF Features Low Power Consumption
Press release date: January 21, 2013
Z-Communications, Inc. announces a new RoHS compliant VCO (Voltage Controlled Oscillator) model SMV2950A-LF in the S-band. The SMV2950A-LF operates at 2850 to 3050 MHz with a tuning voltage range of 0 to 2.5 Vdc. This compact VCO features phase noise of -85 dBc/Hz @ 10 kHz offset while operating off a 3.0Vdc supply and typically drawing 15mA of current.

The SMV12950A-LF provides the end user typical output power of 3±3 dBm into a 50Ω load while operating over the industrial temperature range of -40 to 85º C. This robust VCO suppresses the second harmonic to better than -15 dBc and covers the frequency range with a tuning linearity of better than 1.1:1. The SMV2950A-LF comes in Z-Comm's standard SUB-L package measuring a mere 0.3 in. x 0.3 in. x 0.08 in. It is available in tape and reel packaging for production requirements making it ideal for automated surface mount assembly and reflow. The SMV2950A-LF is well suited for mobile radio and test instrumentation applications that require minimal power consumption as well as low phase noise.

For further information on this model or any other product from Z-Communications, Inc. please contact our Applications department via e-mail at applications@zcomm.com or call us at 858-621-2700.

Part Number: SMV2950A-LF
Delivery: Stock-4 weeks
Contact: Z-Communications, Inc.
Tel: 858-621-2700 
Fax: 858-486-1927
Email Technical Support – mailto:applications@zcomm.com
Email Sales: mailto:sales@zcomm.com
URL: http://www.zcomm.com