Product News: Computer Hardware & Peripherals
Ruggedized Keyboards are ATEX-approved.
Press Release Summary: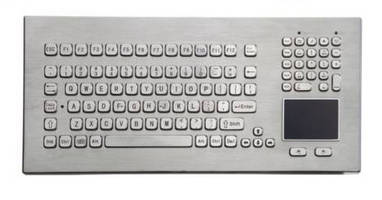 June 22, 2012 - Consisting of FM-approved ATEX Zone 0 and Zone 2 keyboards, DT-102-EX(TM) Series can operate in variety of classified hazardous locations. Fully sealed, NEMA 4X keyboards with integrated touchpad are constructed with stainless steel enclosures and keycaps making them virtually indestructible, tamperproof, and corrosion-resistant. Keyboards are engineered to withstand harsh environments of offshore drilling and well pumping applications.
Original Press Release
iKey®'s New Line of Ruggedized Keyboards is ATEX-Approved
Press release date: June 6, 2012
AUSTIN, Texas, -- Computing in potentially explosive environments is now safer and more user-friendly with the addition of an ATEX-certified line of external keyboards into the marketplace. iKey®, a leading manufacturer of ruggedized peripherals, is proud to announce its DT-102-EX(TM) family of products, which is approved for use in a variety of classified hazardous locations. The new DT-102-EX rugged line includes FM-approved ATEX Zone 0 keyboards and ATEX Zone 2 keyboards. Products within the family include the nonincendive DT-102-SS-XXX-AT2, certified to Ex ic IIC T4; Ex tb IIIB T4; Ta=60 degrees C, and the intrinsically safe DT-102-SS-XXX-AT0, certified to Ex ia IIB T4; Ex tb IIIB T4; Ta=60 degrees C. (Where XXX=cable type.) "ATEX is the global standard for hazardous area equipment, and we are happy to provide our customers with products that meet this level of protection," Dave Huddleston, iKey operations manager, said. "Very few industrial keyboards on the market today carry the ATEX certification, and we are excited to finally be able to offer a line of the most rugged keyboards designed for Zone 0 and Zone 2 applications." The DT-102-EX line features fully sealed, NEMA 4X keyboards constructed with stainless steel enclosures and keycaps making them virtually indestructible, tamper proof, and corrosion resistant. The DT-102 EX products are engineered to withstand the harshest of environments, including those found in offshore drilling and well pumping applications. This line is low-maintenance, easy to clean, and also includes an integrated touchpad, making it a complete, user-friendly solution. "Many of our customers use our products in areas where a standard keyboard would fail," Huddleston said. "The DT-102-EX line is designed to endure extremely harsh treatment, even pressure washing." The DT-102-EX line is available in a variety of cable configurations. Installed with a properly-rated isolation barrier, the keyboards can be ordered in PS/2, PS/2 with bulkhead connectors, or USB connectors. For more information on the DT-102-EX line or iKey's line of industrial keyboards, visit
www.iKey.com
or iKey's YouTube Channel for product demos and features. About iKey, LTD.: iKey designs and manufactures rugged, sealed and custom keyboards, displays, and pointing devices for industrial, public safety, medical and military applications. A pioneer in its industry since 1989, iKey is known as an innovator of industrial computer peripherals. For more information, visit
www.iKey.com
. CONTACT: Amy Kincheloe of iKey, +1-512-837-0283, amy@iKey.com Web Site:
www.ikey.com