Roughness Measurement Software operates on Android devices.
Press Release Summary: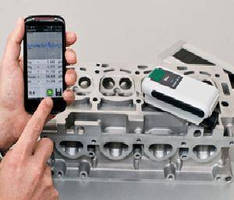 November 5, 2012 - With MarSurf® One App, users can measure surface roughness using smartphones and other Android OS devices. Program interfaces via Bluetooth with Mahr RD 18 Drive Unit and probe to measure parameters such as Ra, Rz, Rmax, Rt, and Rq. Resulting profiles can be zoomed using multi-finger gestures for instant analysis; saved; converted to PDF files; synched; or emailed for display and analysis on other devices such as PCs.
Original Press Release
Measure Surface Roughness with Your Smartphone
Press release date: October 29, 2012
-- New MarSurf® One App from Mahr Federal allows Android Smartphone or Tablet to control the surface measurement drive unit
-- Measure roughness parameters anytime, anywhere; zoom to analyze; or email results

PROVIDENCE, RI – At IMTS 2012 Mahr Federal unveiled a revolutionary way to measure surfaces. Mahr Federal introduced a new Android App that lets users measure common surface roughness parameters using their Smartphones and other Android operating system devices. The MarSurf® One App interfaces via Bluetooth with a Mahr RD 18 Drive Unit and probe to measure the most popular roughness parameters, including Ra, Rz, Rmax, Rt, and Rq. Resulting profiles can be zoomed using multi-finger gestures for instant analysis; saved; converted to PDF files; synched; or emailed for display and analysis on other devices such as PCs.

"Using the MarSurf One App with your Smartphone is a very inexpensive, and extremely portable, way to obtain surface roughness measuring capability," said Pat Nugent, Vice President Metrology Systems for Mahr Federal. "The MarSurf One App requires an RD 18 Drive Unit and probe, of course, which come standard with MarSurf M 300 systems. However, by purchasing the RD 18 as a separate unit and using it with the MarSurf One App, the result is a total system that is less expensive than buying an M 300 system."

The MarSurf One App can be downloaded from Google Play for Android. A free demo version is available for 7 days, and the full, licensed version can be purchased via the "buy button" for automatic download. No operator training is required as operational elements follow typical and well-known Android user interface styles. The MarSurf One App uses a standard R-profile filter and measures in accordance with DIN EN ISO 16610-21 (digital phase correct).

Mahr Federal Inc., a member of the Mahr Group, has been providing dimensional measurement solutions to fit customer application needs for over 150 years. The company manufactures and markets a wide variety of dimensional metrology equipment, from simple and easy-to-use handheld gages to technically advanced measurement systems for form, contour, surface finish and length. Mahr Federal is also well known as a producer of custom-designed gages and a provider of calibration and contract measurement services. Mahr Federal's calibration laboratories are accredited to ISO/IEC 17025:2005 NVLAP Lab Code 200605-0 (see our Scope of Accreditation for accredited calibration processes). For more information visit http://www.mahr.com

For additional information, contact:
Marketing
Mahr Federal Inc.
1144 Eddy Street
Providence RI 02905 USA
Tel: (800) 343-2050 or (401) 784-3100
Fax: (401) 784-3246
Email: information@mahr.com
Web site: www.mahr.com