Product News: Material Handling & Storage
Rotary Platen supports multi-component applications.
Press Release Summary: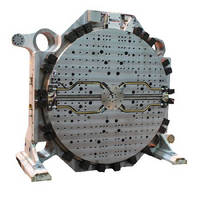 September 10, 2012 - Available in 7 standard sizes ranging from 850-2,500 mm, Varian Turntable fits machines from 330-3,300 tons. Servo-driven cycling turntable features stainless steel rotary union, remote operator pendant control, and accuracy and motion needed for multi-component injection molding. Unit can be flush mounted on moving platen as modular component of system, making it suitable for retrofit applications or new machines.
Original Press Release
Milacron's Varian Turntable Very Precise for Injection Molding
Press release date: August 28, 2012
Beneficial for multi-component applications and upgrading current systems Batavia, Ohio - Milacron, a leading supplier of plastics-processing technologies, is introducing the Varian Turntable (also known as a rotary platen), which is an important tool of multi-component, high-volume molding. This rotary platen has a cycling turntable with pendant control and the accuracy and motion that molders are looking for to get into the multi-component business or to upgrade their current systems. Milacron turntables including Varian are servo driven, making them very precise. They can be flush mounted on the moving platen as a modular component of the system, making them suitable for retrofit applications or new machines. For example, Milacron recently helped Wabash Plastics of Evansville, Ind., take on new multi-component business through retrofits as well as a new system with a rotating platen. "Many injection molders are not interested in multi-component molding because of the upfront investment and learning curve required to make the change," said Wabash Plastics President John Schroeder. "But we've been able to take on the challenge successfully, thanks in part to Milacron's support and technologies." Highlights of Varian Turntables include:
· 7 standard sizes ranging from 850 mm to 2500 mm
· Design to fit machines from 330 tons to 3300 tons
· Remote operator pendant for ease of setup
· Stainless rotary union for long life "Multi-component molding is a sophisticated discipline that's increasingly in demand, and we're proud to be a partner to molders taking on this capability," said Ron Hertzer, Director, Global Product Development at Milacron. "One great thing about the Varian Turntable is that you can take an existing machine and retrofit it with a second (or third) injection unit and not have to invest in a brand new machine." About Milacron LLC
Milacron LLC and its businesses are committed to being the leading suppliers of plastics-processing technologies and industrial fluids around the world. The people of Milacron's companies know what matters in manufacturing, and every day, put this know-how to work to help customers improve productivity, cut costs, increase energy efficiency, eliminate scrap and reduce cycle times. For further information, visit
www.milacron.com/plastics/.
Media: For additional information contact Matt Mente at: (414) 270-3514 or mmente@TrefoilGroup.com