Robots integrate arc-welding package.
Press Release Summary: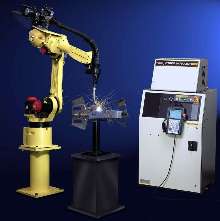 September 24, 2004 - Suited for welding parts of all sizes and configurations, ARC Mate 100iBe and ARC Mate 120iBe 6-axis robots utilize mechanical arms with optimized servomotor, amplifier, and controller features. Both offer maximum reach in confined areas and use R-J3i B Mate Controller and ArcTool software. Integral Arc Welding Dress-Out Package facilitates torch access and reduces arm-to-arm interference when using multiple robots on one part.
Original Press Release
FANUC Robotics Introduces New Integrated Robotic Arc Welding Solution at IMTS 2004
Press release date: September 8, 2004
ROCHESTER HILLS, Mich., Sept. 8, 2004 - FANUC Robotics America, Inc. will demonstrate the benefits and cost savings of it latest integrated arc welding package during IMTS 2004 at McCormick Place in Chicago, Sept. 8-15, in the Emerging Technology Center. The demonstration will feature the new, cost-effective ARC Mate 100iBe robot equipped with the new integral torch Arc Welding Dress-Out Package, ROBOGUIDE-WeldPRO simulation software, Vision Shift software, arc welding Maintenance Station, and a Lincoln Electric F355i power supply to simulate welding automotive frame components. Designed for quick start-up and ease of programming, the demonstration includes a simulation of the actual work cell in ROBOGUIDE-WeldPRO showing a virtual robot tracking the ideal weld path on the part while the robot runs the same path. In addition, the new Vision Shift option will demonstrate automatic calibration of a virtual path to the real path. Vision Shift eliminates the usual touch-ups and verification associated with off-line programming or fixture and tool changes. An operator will present parts to the robot, invoke the vision "automatic" calibration, and the robot will adjust its path with no operator teaching required. The new arc welding Maintenance Station will demonstrate automatic "hands-free" maintenance of the torch tip. ARC Mate 100iBe Robot The new ARC Mate 100iBe robot and its larger counterpart, the ARC Mate 120iBe robot, complement FANUC Robotics' popular ARC Mate series of robots designed for arc welding applications. The ARC Mate 100iBe and ARC Mate 120iBe robots are simplified versions of the ARC Mate 100i and ARC Mate 120i products, utilizing existing mechanical arms with optimized servo motor, amplifier and controller features. Easy to install and use, the six-axis ARC Mate 100iBe and ARC Mate 120iBe robots are cost-effective solutions for welding parts of all sizes and configurations. Both new robots are compact, and offer maximum reach in confined areas, allowing manufacturers to install multiple robots in close proximity, and save valuable floor space. The R-J3i B Mate Controller and easy-to-use ArcTool software, standard with the ARC Mate series of robots, provide reliable performance with affordability. "These cost-effective robots are powerful, reliable and offer excellent value," said Mike Sharpe, FANUC Robotics' manager of materials joining. "Smaller shops in particular will find the new ARC Mate 100iBe and ARC Mate 120iBe robots to be an attractive and low cost alternative to labor intensive arc welding." Benefits of the new ARC Mate 100iBe and ARC Mate 120iBe robots include: · Best in class reach versus stroke ratio · Compact design simplifies installation and transportation of system · Provides high throughput · Allows operation in tight work spaces · Lower operation and installation costs Arc Welding Dress-Out Package The new integral torch Arc Welding Dress-Out Package offers easy torch access and reduces arm-to-arm interference when using multiple robots on a part. In addition, the robot and integral weld torch are accurate simulation models for the virtual world, such as ROBOGUIDE-WeldPRO. This is unique since it is typically difficult to model weld torch packages with good results. The dress-out package is easily retrofit to the ARC Mate robot providing maximum flexibility and a choice for users. Key technology includes the torch rotator and cable management system. The torch rotator allows the robot to position the weld torch with minimal wrist movement achieving a high quality weld. The cable management system provides for proper routing of the weld torch along the arm. ROBOGUIDE-WeldPRO Simulation Software FANUC Robotics' ROBOGUIDE-WeldPRO is a simulation tool for robotic arc welding processes. A process-specific plug-in to ROBOGUIDE off-line robot simulation software, WeldPRO simplifies the ability to program a variety of applications in 3-D, including plasma cutting and GMAW, plasma and GTAW welding. ROBOGUIDE-WeldPRO uses a FANUC Robotics' Virtual Robot Controller and process software to allow the easy creation of entire robotic welding or cutting work cells. CAD models of tooling and work pieces are imported directly into WeldPRO and used to build system layouts and evaluate system operation. Also, CAD to path teaching simplifies programming. Anyone able to program a FANUC robot can use WeldPRO to create weld paths with proper torch angles, and define process parameters. Vision Shift Software FANUC Robotics' Vision Shift is a vision guidance system that allows a user to shift a weld program ideally generated in the ROBOGUIDE-WeldPRO simulation package. The weld program generated in the virtual world of WeldPRO will need to be shifted when it is loaded in the real world of the actual robot cell. This is common with all simulation packages and Vision Shift accomplishes this automatically and without operator error as in other methods. Arc Welding Maintenance Station The new arc welding Maintenance Station provides automatic welding torch maintenance including torch cleaning and contact tip change. The Maintenance Station uses only the robot's motion to clean spatter from the welding nozzle without any additional actuator or sensor for hands-free maintenance. The contact tip can be automatically changed with no need for the operator to enter the work cell. FANUC Robotics America, Inc. designs, engineers and manufactures innovative robots and robotic systems for a wide range of industries and applications including arc and spot welding, material handling (machine tending, palletizing, packing), material removal, assembly, paint finishing and dispensing. The company also provides application-specific software, controls, vision products, and complete aftermarket support. After 22 years of success, FANUC Robotics maintains its position as the leading robotics company in the Americas. A subsidiary of FANUC LTD in Japan, the company has facilities in Chicago; Los Angeles; Charlotte, N.C.; Cincinnati and Toledo, Ohio; Toronto; Montreal; Aguascalientes, Mexico; and Sao Paulo, Brazil. FANUC Robotics can be found on the Internet at
www.fanucrobotics.com
or by calling 800-47-ROBOT.