Product News: Sensors, Monitors & Transducers
RF Admittance Point Level Sensor offers 2-step calibration.
Press Release Summary: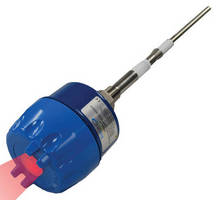 January 7, 2013 - Used for point and continuous level measurement of powder, granular, liquid, and slurry materials, Models AP/APX come in 5 probe configurations – Standard, Mini, Cable-Extended, High Temperature, and Super High Temperature – all of which include integral electronics available with Ordinary Location or Explosion-Proof enclosures. Features include LED indication of normal and relay alarm status, NEMA Type 4X powder-coated enclosure, and ¾ in. NPT stainless steel process connection.
BlueLevel Technologies, Inc. - Richfield, IL
Original Press Release
Introducing the Model AP/APX RF Admittance Level Probe!
Press release date: January 2, 2013
Sterling, IL, United States – "A complete RF admittance point level sensor line is now available from BlueLevel Technologies.  The Model AP/APX RF admittance level sensor products add to the growing capabilities of BlueLevel Technologies for the point and continuous level measurement of powder, granular, liquid and slurry materials within a wide variety of industrial areas", says Joe Lewis, Managing Director of BlueLevel Technologies, Inc.

The Model AP/APX RF admittance point level sensor is available in each of five (5) different probe configurations, including Standard, Mini, Cable-Extended, High Temperature and Super High Temperature probes.  All probe versions include integral electronics available with either Ordinary Location or Explosionproof enclosures.  The Model AP for ordinary locations includes a large locally visible LED indication of the normal and relay alarm status of the sensor.  Other features include a universal 20-255VAC/VDC power supply, DPDT relay output fail-safe on power failure, a simple 2-step calibration function, remote test input, NEMA Type 4X powder coated enclosure and a ¾" NPT stainless steel process connection for most probe configurations (other size connections provided or may be available).  The Model APX is an explosionproof version, certification is pending.

"The Model AP/APX RF admittance probe product line is added to our rotary paddle, vibrating rod/fork and proximity switch product lines allowing us to provide an optimal solution for virtually any point level sensor application". 

BlueLevel Technologies is the service leader in the manufacture and supply of bin level indicators, silo inventory monitors, proximity sensors and aeration devices.  Visit our NEW website at www.blueleveltechnologies.com for additional information, call us at 815-625-2224 or email us at bluelevel@blueleveltechnologies.com.

Joe Lewis
Managing Director
1741 Industrial Drive Unit# 5
Sterling, IL 61081
815-625-2224
815-625-2226 (fax)
www.blueleveltechnologies.com