Product News: Green & Clean
Renewable Energy Monitoring Software is optimized for scalability.
Press Release Summary: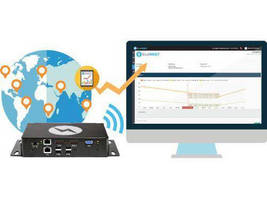 April 25, 2014 - Due to its architecture, BlueNRGY Monitoring v2.0 enables monitoring of virtually limitless amount of power plants globally, each with thousands of monitored data points, in real-time. UI facilitates setup and management of power plants portfolio, while reporting template module lets users create custom reports as well as share and comment on report sections. Along with analytical tools, features include global weather displays, multilingual support, and performance yield analysis.

Original Press Release
BlueNRGY, LLC Releases First Major Software Upgrade of Its Global Energy Monitoring Solution
Press release date: April 15, 2014
Next-Generation Solution Monitors Virtually Limitless Amount of Power Plants and Data Points in Real-Time
FORT LAUDERDALE, Fla.--BlueNRGY, LLC, a global energy monitoring solutions provider, today announces the release of BlueNRGY Monitoring 2.0, a redesigned and revamped version of its renewable energy monitoring platform. The new software release includes a refreshed user interface, fast custom reporting, easy-to-use analytical tools, full site data configuration, global weather displays, and a number of other feature enhancements.
The biggest change that renewable energy owners, operators and asset managers can expect from BlueNRGY Monitoring 2.0 takes place on the infrastructure layer with significant upgrade to the system's architecture, which enables BlueNRGY to monitor a virtually limitless amount of power plants globally, each with thousands of monitored data points in real-time.
BlueNRGY Monitoring 2.0 key software enhancements include:
Site Data Configuration - Users now have a new interface for setting up and managing a portfolio of power plants, showcasing a multitude of data points on an aggregated dashboard portfolio view down to a specific site's connected devices.
Multi-language Support - BlueNRGY's global customer base can benefit from a culturally appropriate experience with the system's capability to translate interface text, metrics and currency to their desired language. Languages supported include English, Chinese, French, German, Spanish, Italian and Russian.
Performance Yield Analysis - It's easier than ever to analyze performance yield for one site or across a fleet of power plants. The improved analysis engine allows users to select sites, devices and other available data points, and then graph or download calculated performance data quickly.
Custom Reporting Enhancements - The new reporting template module allows users to create their own custom reports, as well as share and comment on report sections, based on business need.
About BlueNRGY, LLC
BlueNRGY, LLC is a global energy monitoring solutions provider, delivering an integrated solution consisting of web-based energy monitoring software and industrial grade data acquisition hardware for renewable energy power plants around the world. Founded in 2012, BlueNRGY, LLC is headquartered in Ft. Lauderdale, FL with an engineering lab in Seattle, WA, and local presence in New York, NY, Paris, France, and Geneva, Switzerland. For more information about BlueNRGY, LLC visit
www.BlueNRGY.com
.
Press Contact
Katherine Estacio
Chief Marketing Officer
BlueNRGY, LLC
kat.estacio@bluenrgy.com
+1-954-892-6658