Product News: Test & Measuring Instruments
Remote Sensing Kit includes everything necessary for field work.
Press Release Summary: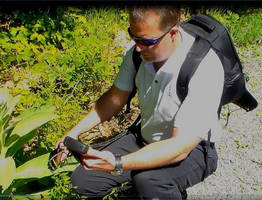 March 10, 2014 - Customizable to remote sensing application requirements, PSR-3500 Remote Sensing Bundle includes PSR-3500 UV-VIS-NIR field portable spectroradiometer as well as required software and accessories. Spectroradiometer, powered by rechargeable Li-ion batteries, has 350–2,500 nm spectral range and stores up to 1,000 scans. Bundle also includes 5x5 white reflectance plate with cover and tripod mount; GETAC, PS-336 handheld microcomputer with built-in digital camera; and 4° screw-on FOV lens.
Original Press Release
The PSR-3500 Remote Sensing Bundle has It All for Remote Sensing Field Work
Press release date: February 28, 2014
The Bundle includes a field portable spectroradiometer plus the software and accessories for your application.
Lawrence, MA – As preparations begin for another season of field study, SPECTRAL EVOLUTION has created a remote sensing bundle designed to meet the needs of researchers in a wide range of remote sensing applications, including:
• Vegetation studies
• Environmental research
• Soil analysis
• Agricultural research including crop health
• Forest canopy studies
• Water body studies
• Plant species identification
• Satellite data correlation
• Atmospheric research
• Geological remote sensing
• Ground truthing
The PSR-3500 Remote Sensing Bundle is built around the PSR-3500 UV-VIS-NIR field portable spectroradiometer which features:
• 350-2500 nm spectral range for full spectrum measurements in a single scan
• Autoshutter, autoexposure, and autodark correction before each scan for one-touch operation
• Superior field reliability and light weight – under 8 pounds (3.5kg)
• Lightweight, re-chargeable lithium-ion batteries for power in the field
• Store up to 1,000 scans on the instrument without a computer
The Bundle also includes:
• Rigid, foam-lined Pelican case for transport and shipment
• TENBA shootout padded mini-backpack for maximum comfort and protection
• 5x5 white reflectance plate with convenient cover and tripod mount
• GETAC, PS-336 handheld microcomputer with built-in digital camera –view your spectra on the sunlight readable display and tag pictures, altimeter readings, GPS, and voice notes to your spectra
• 4 degree, screw-on Field of View (FOV) lens
• Convenient shoulder strap
The Bundle can be customized to fit specific application requirements, for example, by adding a pistol grip, contact probe, or leaf clip.
For a quote on a bundle for a specific application contact
nate.bloomingdale@spectralevolution.com
For more information on the PSR-3500 Bundle, or any of our remote sensing systems, visit:
http://www.spectralevolution.com/portable_spectroradiometer_remote_sensing.html
About SPECTRAL EVOLUTION
Established in 2004, SPECTRAL EVOLUTION is a leading manufacturer of laboratory and handheld portable spectrometers, spectroradiometers and spectrophotometers.  SPECTRAL EVOLUTION spectrometers are used worldwide for many mission-critical lab and field applications in mining, remote sensing, vegetative studies, ground truthing, environmental and climate studies, developing satellite calibrations, and more, due to their reliable, robust, rugged design and user-friendly one-touch features. 
Press contacta
Mo Kashdan
Marketing & Sales
978-687-1833
Maurice.kashdan@spectralevolution.com
SPECTRAL EVOLUTION
1 Canal Street, Unit B1
Lawrence, MA 01840 USA
www.spectralevolution.com