Product News: Plant Furnishings & Accessories
Remote Monitoring Unit optimizes equipment operations.
Press Release Summary: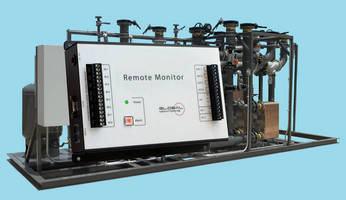 December 17, 2012 - Messenger™ GMU8120 checks equipment in hard-to-reach and environmentally challenging locations and reports data as well as emergency conditions in various formats: cell phone, text, email, or computer. Configurable with 0–5 V, 4–20 mA, or dry contact sensors that detect temperature, pressure, voltage, vibration, and other parameters, product creates vital conditions database. Unit can also perform control, communication, and input processing tasks.
Global Monitoring, LLC - Springfield, PA
Original Press Release
Remote Monitoring Unit (RMU) Optimizes Equipment Operations at Remote, Unattended or Inaccessible Locations
Press release date: December 11, 2012
Springfield PA USA -- Equipment condition monitoring is an essential element of predictive maintenance programs.  Rather than randomly maintain equipment whether it needs it or not, predictive maintenance (PdM) implements statistical analysis and real-time equipment monitoring to determine when maintenance activity is most cost effective and before equipment loses performance within a threshold. 

Sometimes, facilities are located in remote sites or inaccessible locations, making it difficult for operators to attend to various equipment.  The Messenger™ GMU8120 Remote Monitoring Unit, from Global Monitoring, checks equipment operations in hard-to-reach and environmentally challenging locations and reports data, as well as emergency conditions, in a variety of formats – cell phone, text, email or computer.

Configurable with industry standard 0-5V, 4-20mA or dry contact sensors that detect temperature, pressure, voltage, vibration and other parameters, the Messenger™ creates a database of vital conditions that can be integrated into predictive maintenance programs.   Using historical and current data, facilities can determine when to do equipment maintenance, inspections, cleaning or repairs.

The Messenger also sends early warning signals of emergency conditions to pre-programmed telephone numbers to notify key personnel of any anomaly.  Using the remote control capabilities of the remote monitoring unit, users can start, stop or reset equipment, reducing the need to dispatch a technician. 

"Serving as part of a predictive maintenance solution, the Messenger™ GMU 8120 Remote Monitoring Unit helps avoid equipment failures and poor performing assets by predicting and preventing equipment failures," notes Steve Sanislo, President, Global Monitoring. "Companies with equipment at remotely located or unattended facilities will find the RMU useful in monitoring equipment status on a 24/7 basis without the deployment of operational personnel at distant sites or where it may even be impossible to access facility assets."

In addition to reporting equipment conditions, the Messenger™ performs a wide range of control, communication and input processing tasks.   It can totalize flow through a pipe, track run-time hours of a pump, check environmental conditions, regulate temperatures and even remotely reboot a computer or PLC. 

While other monitoring systems require the use of proprietary and costly monitoring services or communication networks, the Messenger™ gives you the option to use a web-based reporting service, while also delivering data to your computer or vocalizing information through your phone or sending a report to your fax. 

Based on phone-line based communications, the Messenger™ Remote Monitoring Unit avoids firewalls and other IT issues that complicate operations.  Communications problem related to Internet-based systems often require a technician that must visit the remote site to resolve the problem. Except for bandwidth, this phone-line based monitoring system can mimic the functionality offered by IP and wireless communications.  Information can be accessed through a browser or smart phone app, with data interfaced with cloud-based mapping and database services.

For more information about the Messenger™ GMU8120 Remote Monitoring Unit, refer to www.globalmonitoring.com/plink/101.htm.

For more information on Global Monitoring LLC, its off-the-shelf remote monitoring units and customized solutions, refer to the web site at http://www.globalmonitoring.com/ or contact the company at contactus@globalmonitoring.com.   Like Us On Facebook  for latest products and news from Global Monitoring.

About Global Monitoring LLC
Global Monitoring is a leading supplier of industrial-grade remote monitoring and control systems. In its 25 year history, Global Monitoring has delivered over ten-thousand systems to the chemical, water and environmental markets to monitor tank levels, equipment conditions and various other parameters.  Global Monitoring designs and supports its own products, with all manufacturing performed in the Philadelphia area. For more information on Global Remote Monitoring products and technology, please visit www.globalmonitoring.com.

Global Monitoring LLC
491 Baltimore Pike Suite 421
Springfield PA 19064 USA
1 610-604-0760
contactus@globalmonitoring.com