Product News: Sensors, Monitors & Transducers
Remote Monitoring Unit helps control agricultural assets.
Press Release Summary: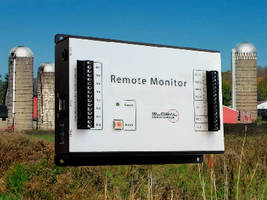 October 29, 2012 - Integrating with various sensors, Messenger RMU remotely manages and controls assets such as irrigation systems, wells/tanks/reservoirs, barns, greenhouses, and silos by alerting personnel of conditions such as energy usage, temperature, power failure, and security on 24/7 basis. Unit is configurable with 0-5 V, 4-20 mA, or dry contact sensors and expandable to 16 inputs. With remote control capabilities, users can start, stop, or reset equipment without dispatching technician.
Global Monitoring, LLC - Springfield, PA
Original Press Release
Global Monitoring's Remote Monitoring Unit Offers Greater Control Over Agricultural Assets and Operations
Press release date: October 22, 2012
Springfield PA USA, - Resource management is a major concern in agriculture.  Farmers and ranchers worry about energy consumption, water levels, equipment operations as well as the potential of hazardous conditions that could jeopardize their livestock and consumables.

The Messenger Remote Monitoring Unit  from Global Monitoring  offers the tools to remotely manage and control assets such as irrigation systems, wells/tanks/reservoirs, poultry farming equipment and livestock, barns, greenhouses, silos, and farm-produced goods by alerting specified personnel of conditions such as energy usage, temperature, power failure and security on a 24/7 basis.   Functioning as a dedicated measurement and control device, the Messenger RMU provides for continuous asset management and condition monitoring of various parameters - even from remote locations.

Integrating with various sensor types such as data loggers, temperature sensors, soil/moisture sensors and programmable logic controllers, the Messenger RMU monitors conditions such as temperature, flow, water levels and power at any remote, unattended or inaccessible location.  Alerts and status reports are sent directly to a cell phone, fax or computer if a condition exceeds specified limits.  Outputs from the RMU can also control equipment either automatically or by remote control. Using the remote control capabilities of the Messenger, users can start, stop or reset equipment, reducing the need to dispatch a technician.  Various personnel can be assigned with limited password-protected access to verify operations simply by making a phone call.

A data logging feature of the Messenger retains detailed historical information of equipment operations and a user interface allows for visualization of historical data and direct downloading to PLCs.   Once installed, users can expand usage of the Messenger as the remote monitoring unit is configurable with industry standard 0-5V, 4-20mA or dry contact sensors and expandable to 16 inputs.

For more information about Global Monitoring's Messenger Remote Monitoring Unit, refer to http://www.remotepossibilities.com/index.php?main_page=indexcPath=1 or contact the company at contactus@globalmonitoring.com.  

About Global Monitoring LLC
Global Monitoring is a leading supplier of industrial-grade remote monitoring and control systems. In its 25 year history, Global Monitoring has delivered over ten-thousand systems to the chemical, water and environmental markets to monitor tank levels, equipment conditions and various other parameters.  Global Monitoring designs and supports its own products, with all manufacturing performed in the Philadelphia area. For more information on Global Remote Monitoring products and technology, please visit www.globalmonitoring.com