Product News: Electrical Equipment & Systems
Regulated Intermediate Bus Converters integrate digital control.
Press Release Summary: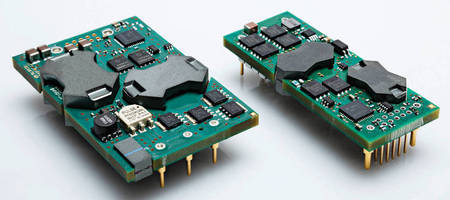 October 22, 2012 - Respectively housed in 1/4 and 1/8 brick packages, NQB (420–468 W) and NEB (264–300 W) series DC/DC converters offer typ efficiencies up to 96.4%, deliver optimal efficiency from 20%–100% load, and incorporate 32-bit ARM-based MCU with power-optimizing firmware. Input configurations include 40–60 Vdc for datacom or 36–75 Vdc for telecom applications. Output voltage for all models is preset at 12 Vdc but dynamically adjustable via PMBus from 4.0–13.2 Vdc (NEQ) and 6.9–13.2 Vdc (NEB).
Original Press Release
Fully Regulated Intermediate Bus Converters Incorporate Digital Control to Provide Industry Leading Performance
Press release date: October 15, 2012
TUALATIN, Ore. – CUI Inc has introduced a line of fully regulated intermediate bus dc-dc converters with advanced digital control from their Novum® Advanced Power product line.  The converters are CUI's first product release based on the recently announced license agreement with Ericsson, the world's leading provider of technology and services to telecom operators, for their Advanced Bus Converter portfolio based on the FRIDA II platform.  CUI's NQB and NEB series are pin and function compatible with Ericsson's BMR456 and BMR457 series respectively, enabling original equipment makers (OEMs) to address interoperability challenges, reduce time to market, and decrease supply chain risk for these leading-edge digital products.  The NEB series, housed in an 1/8 brick package, and the NQB series, housed in a 1/4 brick package, incorporate a 32-bit ARM-based microcontroller with power-optimizing firmware designed to maximize and flatten the efficiency curve, providing peak performance across a much wider range of loading conditions when compared to intermediate bus converters currently on the market.  With typical efficiencies as high as 96.4% and optimized efficiency from 20% to 100% load, the modules are ideal in applications where loading conditions can vary greatly, including next-generation Information and Communication Technology (ICT) equipment.  The firmware is also designed to handle input voltage transients with slew-rates of up to 0.5V/µs, while keeping the output voltage within ±10% and ensuring that the output voltage does not trigger over-voltage protection.
Both the NEB and NQB series provide a digital interface that is PMBus 1.2 compliant, allowing customers to configure and store a range of parameters via a USER_STORE memory block.  Designers are able to set a number of protection features including over-temperature, over-current, and over-voltage.  Additional configurable parameters include output voltage, voltage margining, fault management, precision delay ramp-up, and start/stop.
The new converter family is available in two input range configurations; 40 to 60 Vdc input for datacom applications and 36 to 75 Vdc for telecom applications.  The NEB 1/8 brick series is offered with power ratings ranging from 264 to 300 W, while the NQB 1/4 brick series is available in 420 to 468 W configurations.  Output voltage for all models is preset at 12 Vdc, but for dynamic bus applications, users are able to dynamically adjust the NEB's output voltage via PMBus from 6.9 to 13.2 Vdc and the NQB's output voltage from 4.0 to 13.2 Vdc.  For higher power requirements, optional Droop Load Sharing is offered in both series.  Additional features include insulation requirement that meet EN60950 standards, 2250 Vdc isolation voltage, and remote sensing.  To address high temperature applications, both series offer an optional baseplate for improved thermal performance.
"We are very excited to introduce our new family of digitally-controlled intermediate bus converters," stated Mark Adams, Senior VP at CUI.  "The NEB and NQB series are the ideal complement to our leading-edge digital point-of-load modules, further strengthening our position as a leader in advanced power electronics across the entire distributed bus architecture," concluded Adams.
For conventional intermediate bus converter requirements, the NEB and NQB series are available without digital communication pins in an industry standard 5-pin package.  Samples are available now for digital and 5-pin models.  Please contact CUI for OEM pricing.
electronica 2012
Learn more about CUI's power electronics line at this year's electronica show in Munich, running from November 13th to the 16th. CUI will be located in the power hall B2 at booth 518, and will showcase their lineup of power supplies ranging from 1 W to 2400 W, including advanced intermediate bus and digital point of load modules, medical ac-dc power supplies, and rugged industrial dc-dc converters.
About CUI Inc
CUI Inc is a technology company dedicated to the development and distribution of electro-mechanical products. Their broad power and component product portfolios allow customers to address design challenges across a range of industries and applications. Built on a solid foundation of core operating principals, CUI seeks to maximize value for customers through their engineering, manufacturing, and supply chain capabilities. As an industry leader, CUI continues to invest in the future through new technologies, talented employees, expanded manufacturing capabilities, and a growing global reach. For more information, please visit
www.cui.com
.
CUI Inc is a subsidiary of CUI Global, Inc., a publically traded company under the ticker symbol NASDAQ: CUI.