Product News: Laboratory and Research Supplies and Equipment
Refrigerated Incubator provides secure, accurate control.
Press Release Summary: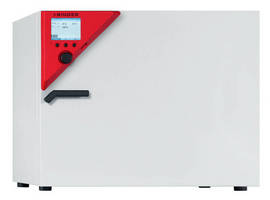 November 8, 2012 - With functional chamber volume of 3.7 ft³, KT 115 utilizes Peltier refrigeration technology and can run down to 4°C. Program functions provide range of capabilities for incubating biological materials, while conventional heating technology extends operating life of device, which can be decontaminated at its 100°C max temperature. Other features include APT.line™ preheating chamber technology, horizontal airflow from both sides of chamber, and temperature accuracy of 0.1°.
Original Press Release
BINDER KT 115 Refrigerated Incubator Provides Accurate, Secure Conditions
Press release date: October 23, 2012
State-of-the-art Peltier-based technology offers reliable, efficient cooling

BOHEMIA, N.Y. – The new BINDER Inc. KT 115 refrigerated incubator utilizes energy-efficient, state-of-the-art Peltier refrigeration technology to provide secure, accurate control. With comprehensive program functions, the unit offers a wide range of capabilities for incubating biological materials and guarantees reproducible results.

Functional chamber volume is 3.7 cu.ft. (104 liters), and the unit can run at temperatures down to 4°C.  In contrast to a compressor, the Peltier technology, which is used exclusively for cooling, is vibration free and significantly reduces energy consumption. Conventional heating technology extends the operating life of the device, which can be conveniently decontaminated at its 100°C maximum temperature.

Proven APT.lineTM preheating chamber technology ensures homogenous temperature conditions, as well as rapid heating and recovery times. Horizontal airflow from both sides of the chamber provides uniform tempera-ture distribution, even when the unit is fully loaded. Temperature, set digitally, is accurate to a tenth of a degree and ensures effective and gentle incubation.

State-of-the-art rotary pushbutton input and graphic LCD display are used to easily set the most demanding programs in English, French or Spanish. The controller accommodates up to 10 different users, each having up to 10 stored programs. The controller's USB interface can be used to transfer data to a PC for BINDER APT-COM™ software analysis. To ensure smooth operation, the controller has a key lock and is password protected.

"The KT 115 successfully addresses all aspects of innovative refrigerated incubator design," said Uwe Ross, president, BINDER Inc. "World-renowned German engineering maximizes available space, minimizes energy consumption, provides high reliability and consistency, delivers an easy to use, clear user interface and allows easy cleaning and decontamination."

Interior layout offers more specimen storage space for given chamber volume. Very tight door seal with two-point door closure increases efficiency. Heat dissipation is low due to two-inches (60 mm) of insulation. Interior cham-ber is condensation-free.

Available options include access ports, shaker platform, interior power socket, outputs, shelves, door heating and interior lighting. Easily removable elements and no permanent fixtures mean that cleaning is fast and simple.

About BINDER
BINDER is the world's largest specialty manufacturer of simulation chambers for scientific and industrial applications. Its range of products and services find use in routine applications, highly specific studies in research and development, and in production and quality assurance. With 340 employees worldwide, BINDER GmbH had annual sales of approximately $75 million in 2010.