Reel-to-Reel Printer aids continuous substrate manufacture.
Press Release Summary: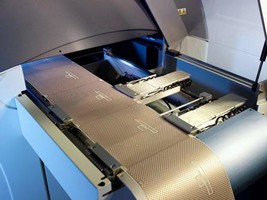 October 23, 2007 - Dedicated R2R (Reel-to-Reel) solution enables precision printing on continuous substrates up to 150 m long and 500 mm wide, such as flexible printed circuits and advanced synthetic materials. Precision screen printing enables manufacturers to deposit advanced materials onto flexible substrates directly from reel. Printer offers repeatable motion-control and substrate-clamping techniques that enable step-and-repeat sequences for optimal control and minimal waste.
Original Press Release
DEK Unveils Reel-to-Reel Solution for High Throughput, Continuous Substrate Manufacture
Press release date: October 15, 2007
DEK has launched its brand new printer incorporating a Reel-to-Reel handling solution, designed to enable precision printing onto continuous substrates such as flexible printed circuits and advanced synthetic materials. Being unveiled to visitors at this year's Productronica, Reel-to-Reel printing delivers an accurate, cost-effective and versatile process solution to optimise complex and continuous assembly. Reel-to-Reel (R2R) precision screen printing enables manufacturers to deposit advanced materials onto flexible substrates directly from the reel. By combining DEK's expertise in precision alignment and versatile clamping with tooling solutions that meet the specific demands of large, flexible substrates, the new dedicated R2R printer is able to print onto substrates typically up to 150 metres in length and 500mm wide. This unique ability is ideal for use with Flexible Printed Circuits (FPC), organic LED substrates, non-conductive materials, fuel cell membranes and a wide range of foils, papers and composites. Applications range from rope lights and lighting systems such as those used to illuminate airliner aisles and emergency exits, to automotive instruments, mobile phones, RFID tag technologies and laptop PCs. Reel-to-Reel replaces the conventional transport system used to drive boards in and out of the print area with three vacuum beds and a clamping system. Deploying a range of proven technologies, Reel-to-Reel is specifically designed to optimise handling efficiency and throughput of continuous substrates, featuring robust and repeatable motion-control and substrate-clamping techniques to enable step-and-repeat sequences that maximise control and minimise waste. "As the popularity of continuous flexible substrates intensifies, we have used our unique screen printing knowhow to develop this advanced and proven Reel-to-Reel technology," explains DEK's Michael Brown. "As a complete process solution, Reel-to-Reel not only delivers accurate positional indexing and tension management mechanisms, but also ensures the very lowest cost-of-ownership through enabling ultra-fast equipment changeover. Engineered for optimum process efficiency and throughput, Reel-to-Reel is further evidence of why our customers around the world Expect More." Reel-to-Reel will be officially unveiled from Hall A4, Stand 305 at this year's Productronica exhibition. For more information about this technology, please contact Michael Brown. About DEK DEK is a global provider of advanced pre-placement manufacturing solutions and innovative deposition technologies for a wide range of electronic materials. For more information, visit DEK at
www.dek.com
. Company Contact Karen Moore-Watts DEK Tel : +44 1305 760760 Email: kmoore-watts@dek.com Internet:
www.dek.com