Product News: Electronic Components & Devices
Rectangular I/O Cable Connector suits portable devices.
Press Release Summary: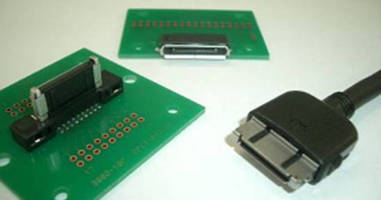 June 2, 2010 - With 18 contacts, 3800 Series rugged board mounting cable connector features sequenced contact structure, with 1st and 18th contacts being first make/last break, and they are also offset 0.5 mm. Locking system ensures reliable retention force once it is mated, and connector incorporates heavy gauge metal shell and can withstand 20,000 mating cycles. Connector body measures 22.3 x 8.5 mm, with board-mounted profile of 5.0 mm and weight of 1.39 g.
Hirose Electric USA, Inc. - Simi Valley, CA
Original Press Release
Hirose Electric's Rectangular Connector Offers a Compact Design and Extended Operating Life in Portable Devices
Press release date: May 11, 2010
Hirose Electric's Rectangular Connector Offers a Compact Design and Extended Operating Life in Portable Devices SIMI VALLEY, CA - Hirose Electric Co. has developed a board mounting cable connector for extended durability and heavy duty service applications. Designated the 3800 Series, this rectangular I/O connector series was developed with a rugged, space-saving, low mass design ideal for use in hand-held and portable products including inventory management devices, such as barcode readers and scanners. Hirose's unique locking system ensures reliable retention force after the connector is mated. "The 3800 Series connectors give customers more of the features customers expect in a high-quality connector, such as sequential mating, a durable potting shield design and a product that is robust, yet achieves both significant weight and size reductions critical for portable devices," said Rick van Weezel, vice-president of sales and marketing for Hirose Electric USA. "Because our customers demanded a durable connector design, we focused on increasing the number of mating cycles from the industry standard of 10,000 cycles to 20,000 cycles. In fact, our customers have successfully tested these connectors to much higher mating cycles." The new version of the 3800 Series rectangular surface mount connector weighs 34% less than the original design and contains 18 contacts compared to the 16 found in previous versions. The connectors feature a sequenced contact structure, with the 1st and 18th contacts being first make/last break, and they are also offset 0.5mm. By utilizing strengthened alignment features and heavy gauge metal shells, the 3800 Series connectors are designed specifically for heavy usage applications that require 20,000 mating cycles or more. The connector body is 22.3mm wide by 8.5mm deep, with a board-mounted profile of 5.0mm, and a weight of just 1.39g. In addition to the 18-pin version, there are series with 10, 16, and 24 pins. Pricing and lead time are available. Visit Hirose at EDS in Las Vegas, Nevada from May 11-13th. ABOUT HIROSE ELECTRIC Hirose Electric Co., Ltd. is a leading global supplier of innovative interconnect solutions, with 2008 sales of US$922 million to customers worldwide. Hirose employs advanced engineering services, superior customer support and worldwide manufacturing capabilities to provide value-based connector solutions for various industries, including telecommunication, consumer electronics, computer and automotive. More information can be found on Hirose Electric at
www.hirose.com
. URL:
www.hiroseusa.com