Qseven Development Kit leverages Altera Cyclone V SoC.
Press Release Summary: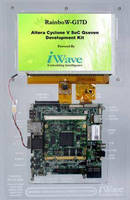 February 20, 2014 - Development board iW-RainboW-G17D is equipped with Qseven R2.0 standard-compliant CPU module based on Altera 5CSXFC6 Cyclone V SoC. SoC's Dual ARM Cortex A9 CPU with integrated FPGA fabric affords system designers flexibility in developing application-specific controllers as well as industry-standard peripherals. Along with 512 MB HPS DDR3 RAM with ECC support, kit components include 256 MB FPGA DDR3 RAM, multiple interfaces, SMP support, debug console, and 7 in. TFT display.
iWave Systems Technologies Pvt, Ltd - Bangalore, IND
Original Press Release
Altera Cyclone V SoC Qseven Development Platform
Press release date: February 17, 2014
iWave Systems Technologies, one of the most experienced companies in Embedded Systems catering to Industrial, Medical and Automotive domains has launched Altera's Cyclone V SoC based Qseven development platform called iW-RainboW-G17D. The development board is equipped with Qseven R2.0 standard compliant CPU module based on Cyclone V SOC chip 5CSXFC6.

The SoC's Dual ARM Cortex A9 CPU with the integrated FPGA fabric allows greater flexibility for the system designers to develop application specific proprietary controllers along with industry standard peripherals available from the multi core CPU. The improved logic integration with integrated high speed transceivers and hard memory controllers of the SOC provides increased bandwidth capacity which is ideal for Industrial Automation, Smart Energy Systems, Video Surveillance, Automotive Telematics, Medical Instrumentation, Defence & Aerospace applications.

Initially the development kit will be launched with Linux and Windows Embedded Compact 7 BSP support with following features:
• Altera's Cyclone V 5CSXFC6
• 512MB HPS  DDR3 RAM with ECC support
• 256MB FPGA  DDR3 RAM
• Standard SD (boot)
• Debug Console
• Gigabit Ethernet
• USB 2.0 Host
• PCIe
• UART
• I2C
• SMP support
• 7" TFT  display
• I2C Cap touch
• GPIOs