Product News: Test & Measuring Instruments
Pyrometer Calibrator offers auto-tune PID control.
Press Release Summary: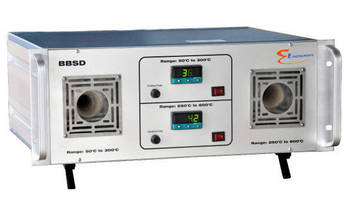 February 13, 2012 - With dual ranges of 50-300°C and 250-600°C, Black Body BBSD Dual provides simultaneous measurement of low and medium temperatures. Portable non-contact unit offers 1°C resolution, ±0.5°C stability, and accuracy within 0.5% of indicated temperature. Operating from 230 Vac/50 Hz power supply, calibration system heats to max temperature in 45 minutes with stabilization time of 30 minutes.
E Instruments International - Langhorne, PA
Original Press Release
Black Body BBSD Dual for Non-Contact Pyrometer Calibration
Press release date: February 8, 2012
The BRAND NEW Black Body BBSD Dual is a portable, rugged & VERY easy-to-use Non-Contact Pyrometer Calibrator System ideal for Simultaneous Measurement of Low & Medium Temperatures.
The Black Body BBSD is a highly accurate pyrometer calibrator instrument. In addition to excellent stability it offers auto-tune PID control.
The Black Body BBSD Dual Includes:
- Dual Ranges: 50°C to 300°C & 250°C to 600°C
- Accuracy:
Chamber 1: Within 0.5% of indicated temperature (Min. 1°C)
Chamber 2: Within 0.5% of indicated temperature (Min.2°C)
- 1°C Resolution
- Stability of ± 0.5°C
- Heating Time: (to max) 45 minutes
- Stablization time: 30 minutes
- Auto tune PID Controller
- Emissivity: 0.98
- Power Supply: 230 VAC / 50 Hz
For additional information, please contact:
E Instruments International,
172 Middletown Blvd., Suite B201, Langhorne, PA 19047
Phone: 215-750-1212, Fax: 215-750-1399
Email: dkelly@E-Inst.com Website:
www.E-Inst.com