Product News: Fluid & Gas Flow Equipment
PTFE Hose features stainless steel overbraid.
Press Release Summary: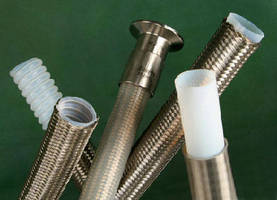 April 28, 2014 - Available in sizes from ¼–3 in. nominal ID, APFOS Hose is suited for critical fluid lines in high-purity industries. Hose combines purity of PTFE fluoropolymer with pressure carrying capabilities of stainless steel. Capable of handling temperatures from -100 to 450°F, hose comes in smooth core, convoluted core, silicone-jacketed smooth core, and silicone-jacketed convoluted core versions. Platinum-cured silicone over 304 SS braid provides heat protection and wipe-clean smooth exterior.
NewAge Industries, Inc. - Southampton, PA
Original Press Release
AdvantaPure®'s PTFE Hose Overbraided with Stainless Steel Reduces Kinking and Increases Pressure Capabilities
Press release date: April 15, 2014
Smooth & Convoluted Cores Available
Southampton, Pa. — AdvantaPure now offers its stainless steel overbraided PTFE hose in four styles. The hose, called APFOS, provides the purity of PTFE fluoropolymer with the durability and enhanced pressure carrying capabilities of stainless steel. APFOS is used in high-purity industries for critical fluid lines such as pharmaceutical batch, media and buffer transfer; hot and cold food and beverage conveyance; and chemical lines.
The four versions include smooth core, convoluted core, silicone-jacketed smooth core, and silicone-jacketed convoluted core. The smooth core options offer larger inside diameters than traditional nominal hose and provide the maximum amount of flow during fluid transfer. The convoluted core styles offer more hose flexibility and are less susceptible to stress cracking than metal counterparts. Both smooth and convoluted types are available with a layer of platinum-cured silicone over the stainless steel braid, offering two benefits: the silicone supplies heat protection, making the hose better able to withstand harsh environments and easier to handle in high temperature applications, and it provides a wipe-clean smooth exterior to eliminate particle entrapment within the braid wires.
The cores of APFOS are manufactured from virgin PTFE fluoropolymer that is USP Class VI compliant and meets FDA 21 CFR 177.1550 and ISO 10993 Sections 5, 6, 10 and 11. The cores are inert and offer long flexural life, low permeability, non-flammability, and the lowest coefficient of friction of any solid material. Overbraid material of 304 stainless steel wire permits higher pressure uses, improves flexibility, reduces kinking, and protects the core. APFOS handles temperatures ranging from -100°F to 450°F; -73°C to 232°C.
APFOS sizes range from 1/4" through 3" nominal I.D., depending on style. Custom options include conductive black PTFE, hose assemblies with crimped-on ends, and identification solutions such as the AdvantaLabel® silicone label attachment system. Rubber-covered FEP fluoropolymer hose is stocked as well.
For more information on APFOS reinforced PTFE hose, contact the AdvantaPure team at 145 James Way, Southampton, PA 18966; phone 888-755-4370 or 215-526-2151; fax 888-258-4293 or 215-526-2167; e-mail:
sales@advantapure.com
; or visit
http://www.advantapure.com/apfos-ptfe-hose.htm
.
ISO 9001-2008 RGB 300
About AdvantaPure and NewAge Industries
The AdvantaPure division of NewAge Industries is ISO 9001:2008 certified and specializes in high purity tubing, hose, single use systems, manifolds, and other molded components for the pharmaceutical, biomedical, food, beverage, and cosmetic industries. All products are manufactured, stored, and shipped using the cleanest methods possible to ensure unsurpassed product purity.
In business since 1954, NewAge Industries manufactures plastic and rubber tubing in both reinforced and unreinforced styles. The company offers one of the broadest product lines of tubing and fittings in the U.S., provides extensive custom extrusion and fabrication capabilities, and services customers worldwide. Automated product identification systems, including gamma-stable RFID tags and labels, are offered by NewAge's Verigenics™ division. In 2006, NewAge initiated an ESOP (Employee Stock Ownership Plan) for the benefit of both its employees and customers.
AdvantaLabel®, NewAge Industries AdvantaPure®, Verigenics™, and NewAge® are trademarks of NewAge® Industries, Inc.