Product News: Packaging Products & Equipment
Protective Packaging System inflates materials at 65 ft/min.
Press Release Summary: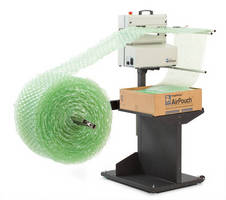 September 28, 2011 - AirPouch® FastWrap(TM) produces bubbles and tubes used for wrapping, interleaving, and block-and-brace applications. All-electric unit inflates packing materials at 65 linear fpm and employs dual-belt drive and seal flattening system to ensure wrinkle-free seal and optimal air retention. Intelligent design consistently manages heat, air pressure, and speed to produce seals that do not leak. In addition to knifeless design, several options are available.
Automated Packaging Systems, Inc. - Streetsboro, OH
Original Press Release
Automated Packaging Systems Introduces Next Generation AirPouch® FastWrap(TM) System
Press release date: September 26, 2011
STREETSBORO, OH - Automated Packaging Systems has introduced a new generation of on demand protective packaging systems that produce bubbles and tubes used for wrapping, interleaving and block-and-brace applications. The new AirPouch® FastWrap(TM) system is a compact, all-electric unit that inflates packing materials at 65 linear feet per minute. The FastWrap system produces protective wrapping and tubes on demand at the workstation, saving significant costs associated with shipping and storing pre-filled bubble packing materials. One small box of FastWrap material yields more than 5½ rolls of pre-filled protective wrapping. A unique patent-pending dual belt drive and seal flattening system ensures a wrinkle-free seal and better air retention. The FastWrap System has an intelligent design that consistently manages heat, air pressure and speed to produce high quality seals that do not leak. A new knifeless design eliminates the primary wear item found on most other machines. "This next generation FastWrap machine is designed for consistently reliable performance," states Chris Rempe, Senior Product Manager. "The system is designed for ease of use and minimal maintenance, and features technology advancements that are unlike any other on-demand protective packing system in its class," he adds. FastWrap cellular bubbles feature a patent-pending honeycomb pattern that allows air transfer between cells for maximum product protection and multi-directional wrapping. The FastWrap system is also capable of producing full-length tubes to accommodate a variety of block-and-brace protective packaging applications. EZ-Tear(TM) perforations between each tube make it easy for the packer to tear off exactly the amount of material they need, reducing waste and improving overall efficiency. The FastWrap system utilizes a variety of pre-formed materials, including EarthAware(TM) Biodegradable and Recycled Films, which are fully recyclable and will decompose in a landfill within 9 months to 5 years, depending on exposure conditions. A recognizable green tint shows end users that this is an environmentally-friendly packing material. Standard FastWrap cellular wrap materials are 12 inches wide with perforations every 10 inches, making it convenient for packers to tear off just what they need for fast, efficient packing. FastWrap tubes are available in 14" lengths and are 1¼" diameter when inflated. Options include an automatic winder, machine stand, storage hopper, footswitch, and custom engineered solutions for unique packing station requirements. About Automated Packaging Automated Packaging Systems has been designing and manufacturing original Autobag®, AirPouch® and SidePouch® systems and products for nearly 50 years. With more than 30,000 packaging systems in operation and a worldwide service organization, Automated Packaging Systems has the experience and support to deliver the ultimate in customer satisfaction. The AirPouch® Division of Automated Packaging Systems designs and manufactures a complete line of void-fill and protective packing systems and specialty packing materials. Complete information is available at the company's web sites: www.airpouch.com and
www.autobag.com