Product News: Fluid & Gas Flow Equipment
Proportional Directional Control Valve offers high flow rate.
Press Release Summary: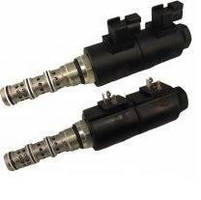 August 10, 2012 - Featuring CFD-optimized design capable of supporting flow rates to 16 gpm, PSV12-34 is available with closed center and float center schematics. This MCU-friendly 12-size proportional directional valve delivers flow capacity which allows flexibility of cartridge technology to be applied on range of applications and machines. For load-independent control, pressure-compensating logic element can be applied in manifold circuit.
Original Press Release
Comatrol Introduces PSV12-34 Proportional Directional Control Valves
Press release date: July 30, 2012
Light Weight Design Delivers Industry-Leading Flow up to 60 LPM (16 GPM) Easley, South Carolina, USA Comatrol-a global leader in the design, manufacture and sale of engineered hydraulic cartridge valves-introduces the new PSV12-34 proportional directional control valves. Responding to the demand for precision hydraulic controls with a focus on customization, compact size and flexibility, Comatrol developed the PSV12-34 proportional directional valve building off the popular PSV10-34 design. Optimized using computational fluid dynamics, the new PSV12-34 design is capable of industry-leading flow of 60 LPM (16 GPM), higher than any other direct acting proportional directional cartridge valve in the market today. In an industry where customers may see cartridge valves and HICs as flow and pressure limited, Comatrol is ready to convince them otherwise by introducing a micro-controller friendly twelve size proportional directional valve that will compete with traditional industrial CETOP products, while providing an alternative to higher end proportional sectional valves. Although many customers are familiar with proportional CETOP valves on HICs, Comatrol is hoping the market will consider applying an equivalent proportional cartridge valve. For those machines that use proportional stack valves today, Comatrol provides a new solution where many of the sections are over-applied in terms of cost and weight per function. "We are providing customers an alternative to higher priced directional valves on the market. Compared to other proportional directional technologies, Comatrol's PSV12-34 cartridge design provides machine designers more flexibility, a smaller space claim, lighter weight, micro-controller friendly coils and reduced power consumption," said Mike Stoltenow, Account Manager (US). "If you want to see how much vehicle weight can be saved per section all you have to do is hold a CETOP D05 (NG10) in one hand and Comatrol's PSV12-34 in the other and the 5 kg (12 lbs) weight difference is significant. Not only is the PSV12-34 lighter, smaller and more cost-effective, but the proportional performance is equal or better." "We want our customers to compare the performance for themselves which is why we proactively created CETOP adapter blocks to test the PSV12-34 against the proportional D05 as well as the PSV10-34 against the D03, in either compensated or non-compensated circuits," Stoltenow continues. "For those applications where pressures are less than 260 bar, a heavy CETOP valve is over-applied, over-weight and over-priced." The PSV10-34 and PSV12-34 products include both closed center and float center schematics with flows ranging from 3 LPM up to market-leading 60 LPM. The flow capacity allows the flexibility of cartridge technology to be applied on a broad range of applications and machines, including larger machines that require higher flow for cylinders and motors. Comatrol's 260 bar valves offer high levels of performance while reducing vehicle cost and weight. For load-independent control, a pressure-compensating logic element can be applied in the manifold circuit following the example circuit(s) on the catalog pages. "Comatrol developed the PSV12-34 to address a need that was not being met in the market today," said Darren Magner, Director of Marketing & Product Development. "Most traditional high flow solutions are based on higher pressures, which translate to heavy iron bodies or sections. Not all high flow directional control circuits need high pressure, which is where the PSV12-34 cartridge design becomes an optimal solution, accompanied with the flexibility of lighter weight aluminum HICs. When the PSV12-34 is combined in an HIC with a higher end proportional directional stack valve, the hybrid valve solution becomes ideal for vehicles with diverse requirements, providing a strong balance between application performance and system cost." Comatrol's PSV10-34 is now available with Robust Coils, allowing customer to select the robust coil for a wide variety of extreme environmental conditions, such as voltage extremes, high ambient temperature, shock & vibration, chemicals, and/or water ingression. Comatrol's PSV valve coils are designed for incorporation on machine control architecture that utilizes Sauer‐Danfoss PLUS+1(TM) hardware. Adding these PSV valves to your application using PLUS+1 GUIDE software is as easy as drag-and-drop. About Comatrol Comatrol, a member of the Sauer-Danfoss (NYSE: SHS) Group, is the most responsive source for Cartridge Valves and Hydraulic Integrated Circuit (HIC) solution needs. Comatrol works with customers and suppliers around the world to manufacture high performance machine control solutions for mobile, on-highway, energy, and industrial equipment markets. Additional information is available at
www.comatrol.com
or follow us on Facebook(TM) at
www.facebook.com/comatrol