Product News: Computer Hardware & Peripherals
PROFINET-CANopen Gateway features configurable design.
Press Release Summary: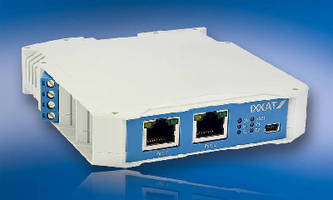 November 16, 2012 - Supporting bi-directional data exchange, Model COP-CON 220/PN allows for integration of existing CANopen devices into PROFINET systems as well as provision of data from PROFINET for use in CANopen. Gateway operates as PROFINET I/O device and uses slots and sub-slots for data exchange. On CANopen side, device acts as CANopen NMT master with PDO and SDO support. Featuring 32-bit microcontroller and DIN rail housing, gateway operates from -40 to +85°C with supply voltage of 9-32 V.
Original Press Release
PROFINET-CANopen Gateway
Press release date: November 2, 2012
Powerful gateway enabling easy integration of CANopen devices in PROFINET networks

With its new PROFINET-CANopen gateway "COP-CON 220/PN", IXXAT offers a powerful and easily configurable gateway solution for connecting CANopen devices and networks to PROFINET systems.

The gateway enables bi-directional data exchange allowing for both the integration of existing, low-cost CANopen devices into PROFINET systems as well as the provision of data from PROFINET for use in CANopen. At this, the gateway operates as a PROFINET I/O device and uses slots and sub-slots for data exchange. On the CANopen side, the device acts as a CANopen NMT master with PDO and SDO support.

The gateway configuration is accomplished easily by using the IXXAT configuration tool which is included free of charge. Using EDS files, the configuration of the CANopen devices as well as establishing communication links is quick and intuitive. In addition to the configuration file necessary for the CANopen side (CDC file), the tool also automatically generates a GSDML file. The GSDML file allows for simple gateway integration into PROFINET networks and the access of PLC applications to the gateway.

At this, the gateway is represented as a single I/O device. All data on the CANopen side which is exchanged through the gateway with the PROFINET network are defined in the GSDML file as variables with variable name, data size and data direction. This unprecedented dual side approach simplifies the configuration significantly.

The PROFINET-CANopen gateway features a powerful 32-bit microcontroller, which enables the processing of large amounts of data. DIN rail housing, a temperature range of -40 ° C to +85 ° C and a wide supply voltage range of 9-32 V allow for easy integration into existing systems. The device and communication status is indicated by LEDs.
The gateway has an integrated 2-port switch, thus allowing easy integration into line topologies. The connection to the CANopen bus and the power supply is made using screw terminals. Device configuration and firmware upgrades can be made via a USB 2.0 port.

Further variants of the gateway for other industrial Ethernet protocols, including EtherCAT, are already being planned and will be available soon.

For further information about the PROFINET-CANopen gateway please visit www.ixxat.com

Company Background
IXXAT is a leading specialist for the integration of embedded system solutions and data communications technologies. IXXAT's technology focus is on CAN, Industrial Ethernet, Safety and FlexRay. In addition to a wide range of hardware and software products, IXXAT develops and delivers, as reliable partner, customer specific hardware components and solutions for the industrial automation as well as for test and measurement applications. Furthermore, IXXAT supports its customers with a variety of services such as consulting, training, and system design and as experienced development partner. With today 80 employees, IXXAT is now for more than 25 years international active, especially in the fields of machinery, automotive, transportation systems and medical devices. For this purpose IXXAT has own subsidiaries and sales offices as well as a large network of distributors.

Contact:
IXXAT Automation GmbH
Frank Pastors
Leibnizstr. 15
88250 Weingarten
Germany
Tel.: +49 . 751 . 561 46 - 0
Fax: +49 . 751 . 561 46 - 29
E-mail: info@ixxat.de
WWW: www.ixxat.com