Product News: Controls & Controllers
Process Meter offers dual alarm relays with flash function.
Press Release Summary: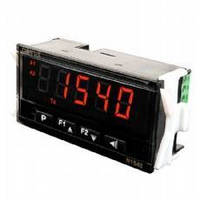 February 3, 2014 - Able to connect with various sensors to list several values, 1.34 in. deep N1540 Universal Indicator can be fully configured via front keypad or USB interface for one-step operation. Current readings are shown on bright, 14 mm display with programmable indicating range for readings from -1999 to 9999. Along with adjustable offset and digital filter, features include detachable wire connectors and user-settable sampling rate as high as 50 measurements/sec.
Original Press Release
New Process Meter Puts Your Data Front and Center
Press release date: January 30, 2014
Universal Indicator from Novus Automation
CHESTERLAND OH — CAS DataLoggers along with Novus Automation introduce the new N1540 Universal Indicator, a compact process meter with a bright display giving you an instant heads-up on your process data. The new meter connects with many different sensors to list several values and allows fast configuration through keypad or USB. Complete with dual alarm relays, an optional RS485 Modbus RTU serial communication and an optional 24V auxiliary power supply, this new meter is now available from CAS DataLoggers for a competitive price.
The Novus N1540 Process Meter is designed with advanced technology for high performance and reliability in the most business-critical applications. Based on an advanced and robust hardware platform, the N1540 can be fully configured via its front keypad or via its unique USB interface for a simple one-step operation. It's also easy to setup several instruments with the same programming parameters while saving time.
The meter's short 34 mm (1.34 inches) depth enclosure means it can be easily installed into panels and enclosures where space is at a premium. Current readings are shown on the bright 14mm display with a programmable indicating range giving readings from -1999 to 9999. The meter also has an adjustable offset and digital filter and convenient detachable wire connectors.
The meter's universal inputs accept a broad range of sensors including thermocouples Types J, K, T, E, N, R, S, B, Pt100 sensors, 0-50 mV, 0-5 Vdc/0-10 Vdc sesnors, and 0-20 mA and 4-20 mA sensors. Users can choose to view temperature in Celcius or Fahrenheit and use the keypad to retrieve the recorded HI and LO values. All Novus products conform to ISO9001, CE and UL requirements.
The USB interface enables quick configuration and monitoring and also provides an invaluable means for users to continuously monitor the measured process variable. Optional RS485 Modbus RTU serial communication is also available.
The meter is powered via 100~240Vac/dc (±10%). Users can set a sampling rate as high as 50 measurements per second, setup a password for configuration protection, and also retrieve factory configuration parameters. Configuration is performed through the free downloadable Novus NConfig software.
The meter also features two relay alarms (SPST 1.5 A/240Vac) with a Flash function causing the display to flash when the alarm is triggered. Additional alarm functions include LO, HI a differential LO/HI, and a sensor break notification.
CAS DataLoggers products are used in a wide variety of applications in remote monitoring, in industrial process and manufacturing industries, for automotive and aerospace data collection, and more.
For more information on our new Novus Universal Process Indicator, more industrial solutions from Novus, or to find the ideal solution for your application-specific needs, contact a CAS Data Logger Applications Specialist at (800) 956-4437 or visit the website at
www.DataLoggerInc.com
.
Contact Information:
CAS DataLoggers, Inc.
12628 Chillicothe Road
Chesterland, Ohio 44026
(440) 729-2570
(800) 956-4437
sales@dataloggerinc.com
www.dataloggerinc.com